In the last few months, I've had two keynotes where I've put in perspective the marriage of the Internet of Things with blockchain as a trend. This is a pretty massive issue yet one with a lot of hype and hysteria. I'll have lots to post and say in the coming months on it. Here's a short clip from one of those talks: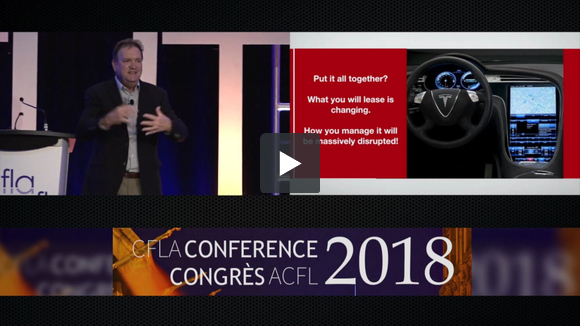 The first of these events was a leadership meeting was for Columbus McKinnon, a manufacturer of overhead cranes used in manufacturing, entertaining, shipping and logistics; the second was for the Canadian Finance and Leasing Association. The first group asked me to outline for several hundred of their engineers and sales staff how the essence of what they build and sell will change as they become 'smart and hypercpnnected;' the other wanted a talk that put into perspective the fact that the very nature of what they lease will change through such connectivity.
Here's the thing: most #IOT (Internet of Things) projects today are a complete failure – they are insecure, built on old outdated Linux stacks with mega-security holes, and ill-thought out architectures. My slide on that fact? Simple: a reality which is already happening today. This type of negligence will doom of the future of the products of many of the early pioneers.
So here's the thing: if organizations are going to build a proper path into the hyperconnected future, they need to understand and follow my "11 Rules of #IoT Architecture." Read it, print it, learn from it : this is what you need to do as you transition to becoming a tech company. Some of the biggest organizations in the world have had me in for this detailed insight – maybe you should.
My inspiration for how to build the future right comes from Apple's robust Device Enrolment Program architecture, which lets an organization deploy, manage, upgrade and oversee thousands of corporate iPhones or iPads; and Tesla, which is not really a car company, but a hi-tech company.
And so in both of these talks, I put into perspective how Tesla has (without knowing it, LOL) been following my rules. First, think about what a Tesla really is – here's my slide….
Going back to my list of the 11 Rules of IOT Architecture, you can see that Tesla has met a number of the conditions …
Go through my IOT architecture list and think about what has been engineered into the computer that is a Tesla.
"Upgradeable: any device should have the ability to be upgraded from afar, automatically, either by user choice or centralized management".
Got that. Consumer Reports didn't like the braking distance on the Model 3. No problem: that's a software update.
"Feature addition capable: the design should provide for the addition of future capabilities, some of which might not be imagined yet at the time of development."
You can do that when you buy your Model 3.
"Prognostic, diagnostic: each device should be able to self-diagnose and report when it is not working correctly."
Yup, built in.
"Self-repairing: better yet, it should not only know when things are going wrong, but have the capability to fix it once it is aware".
Let's fix it at night….
"Programmable: the device should be controllable by users, to the extent that is possible within a predefined robust security and privacy architecture."
User/driver interactivity is at the heart of operator interaction.
"Self-reporting: the device should be able to report on a wide variety of information pertaining to operations, proximity, location, status, etc."
Built in. And yes, there's an app for that (above).
"Swarm data-generating: it should be able to generate types of information that, in concert with other similar devices, is able to be manipulated to provide some unique operational, predictive or maintenance-information data-set (or more)".
It's a data gathering machine.
"Intelligence-capable: it should have or be provided capabilities to make its own decisions based on input data."
As in, a new AI based, neural network…..
"Grid-connectable:  it should be able to exist or participate within a connected series of devices to achieve some original or newly conceived purpose."
Vehicle-to-grid connectivity is a huge trend!Tesla isn't participating fully yet, but it will. Your car battery becomes a part of the energy grid….
Here's the thing: Elon Musk understands the need for a great IOT architecture. Most CEO's of Fortune 1000 companies don't, and until they get someone who does, their project will be a fail. They'll likely put the future of their company at risk through security and privacy failures, product failures and more.
Get with the program, folks!