Futurist Jim Carroll
Disruptive Trend
& Innovation Expert
Author & Keynote Speaker
"I align you to your disruptive, accelerating
future by providing detailed, specific industry
trends – powerful leadership insight delivered
in a compelling and motivational style!"
– Jim Carroll
"We invited Jim in to give us an assessment of how our industry will change over the next 10 years. We have never seen a more compelling, concise – and motivating – assessment!"
"Wow! That's all I can say. Thank you for coming in on short notice, and thank you for providing one of the most concise overviews of the future of the broadcasting industries that I have ever seen!"
"On behalf of the entire Innovative Technology Partnerships Office, thank you for your engaging and thought-provoking presentation at NASA Goddard Space Flight Center. From the feedback we have received, the event was a great success. Thank you for sharing your insight and expertise with us!"
"We were extremely pleased with Jim's presentation… the content was bang-on and would hopefully prompt people to think about the rapidity of change going on in our world! Jim's storytelling approach really helps to get his points across! He did a great job!"
"An amazing ability to put into perspective the trends and reality of the transformation of the transportation industry. We've heard a lot of speakers on the hype involving the industry, but have never seen one put into perspective the future in such a fun,motivating but most important, strategic fashion. Extremely well done!!"
"An outstanding presentation for an industry and association that falls on its traditions so often. We learned that our tradition should not be something that holds us back, but rather the launching pad for innovation for the future. Thanks Jim for your thought provoking presentation!"
"Absolutely stunning. We know that retail and consumer behaviour is changing fast, but you really put into perspective with detailed insight – it's obvious you did your homework. Not to mention that you inspired, motivate and energized those in the audience — all while ensuring they had a good laugh early in the morning. The best speaker we have ever had!"
"A stunning keynote with extremely powerful insight. Humour, energy, deep research and relevant content for our audience. We loved him!"
"Revenue reinvention. The acceleration of science. The transformation of industry. Every industry becomes a tech industry. Moore's law dominates. I could barely keep up with the blistering pace of the change that is coming at us. You identified in a concise manner what we need to be focused on – and what we need to do about it!!"
"We said we needed someone special to speak at our 100th anniversary dinner in Tokyo, and you delivered! The effort you put into preparing for your talk showed once you took the stage – and you commanded the room. We've worked with a lot of speakers over the years, but you certainly have something special."
"Jim , I've never seen a more powerful speaker on trends and disruption. Your use of stories, detailed research, captivating stage presentation style with humour and motivational guidance – you had it all! People need to see you!"
"Great presentation, great perspective, EXCELLENT on all accounts." "Outstanding. Very thought provoking which I believe was the intent" "It takes a lot to impress an astronaut. And I'm impressed! Thought provoking!" "I resonated with this speaker; it's very hard, NASA needs more of this kind of attitude to more readily accept changes to explore/exploit opportunities"
"Jim, not many people can come into a room full of lawyers and hold their attention, but you did. And your unique views on the 'future of risk' was a sobering reality check for these folks. You gave them both a realistic view of what they face in the future as well as practical insight as to what they should do about it."
"I have been working with Jim for the past four years, and, without question, he is one of the most dynamic speakers and professional partners I've ever come across. Our audiences (internal and external) love him, and he works wonderfully with our customers ….I'm willing to bet your first experience will lead to many, many more, as it has with SAP. I wish you the best with him …. book him before someone else does!"
"We thought Jim was amazing – just the positive message we wanted to leave folks with!"
"Stunning – captivating – challenging! You really got our global franchisees thinking about the fast future — I'm not sure if they will ever view the future in the same way!"
"Wow! We thought we needed good insight into how we might be impacted by rapid changes in the business environment and consumer behaviour. We got more than we bargained for – not only concise details on key trends, but workable action plans as well. Jim really did his research for our event!"
"You were superb!  As we make changes your message could not have come at a better time.  This group likes tradition but unfortunately that often gets in the way of moving forward.  Thank you again for reminding us that our greater responsibility is to the future!"
"Wow! So much insight in such a fast moving dynamic presentation. Everything you covered gave our top global leadership a lot of think about in terms of the trends which are changing our world!"
"Jim, you definitely took us into the future. Your masterful method to combine the humour of your observations about the Jetsons, combined with real fast-moving trends was absolutely spot on. Our audience of key customers loved you!"
"Wow! That was wild! 3 times wow! Your take on disruption, change and opportunity was spot on, and just what we needed for our largest event of the year!"
"We wanted to open our energy conference with some really challenging insight. You took our group beyond that and delivered in a really compelling way – with a lot of humour and unconstrained energy to boot."
"You get it. You got it. Thanks for getting us thinking about the scope and challenge and what comes next!"
"The feedback was incredible – what a home run! Everyone was raving about the energy, insight, motivation and compelling message. If the future is fast, we'll be hurrying it up!"
"Simply stunned. We wanted a keynote that would challenge us on branding, accelerated product innovation, fast consumer trends and more – and you delivered! Thank you so much!!!!"
ABOUT JIM CARROLL
Jim is the world's leading global futurist, keynote speaker, business trends, and transformation expert, recognized worldwide for his compelling motivational style, delivered on stage or via his world-class virtual broadcast studio.
For more than 28 years, Jim has shared his insight from the stage with over 2 million people worldwide. Jim is represented by the same agencies that book global icons such as Barack and Michelle Obama, George W. Bush and Richard Branson, Gary Player and Jack Nicklaus, Michael Douglas and Jay Leno.
Jim's clients include NASA, Disney, the World Bank, Mercedes Benz, the PGA, Blackrock, the Wall Street Journal, Pfizer, Microsoft, Cisco, and over 1,500 more. He shares his highly customized, industry-specific insight with CEOs, senior executives, government leaders, and leadership teams on the real trends that matter, and the innovation pathways to align to new disruptive realities.
With extensive industry insight and the customized research that he undertakes for every engagement, he helps to transform growth-oriented organizations into high-velocity innovation heroes!
ACCELERATE INNOVATION,
DELIVER GROWTH!
Imagine if you could accelerate your way into the future, by clearly aligning future trends, your strategic thinking, and your internal engine of creativity. Countless global organizations have engaged Jim Carroll for his unique insight and proven track record in providing a customized leadership program that will let you:
SEE DISRUPTIVE TRENDS: you'll better understand the trends that will impact you in the near and longer-term
FOCUS ON OPPORTUNITY: you will achieve clarity on the trends that really matter
ALIGN TO DISRUPTION: you will shift your thinking to the actions that really matter
UNLOCK CREATIVITY: you will discover that it's buried in your teams – and how you can let it out
ACHIEVE AGILITY: you will learn more about the role of fast-teams
ENHANCE YOUR SPEED: you will discover how to better align to our faster future
ACCELERATE INNOVATION: you will find ways to rethink your strategic pipeline
COLLABORATE MORE: you will maximize the benefit of your internal idea factory
DELIVER ON GROWTH OPPORTUNITIES: you shift from reactive defense to disruptive offense
You will join the company of global leaders at Disney, Pfizer, Johnson and Johnson, BASF, Nikon, and hundreds more who have found that Jim's crystal clear trends and innovation insight take them into a world in which the future belongs to those who are fast!
Highlight Video
Customized, Industry-Focused Keynotes with Futurist Jim Carroll, With a Track Record at Private CEO / CxO Corporate Events
IN-PERSON KEYNOTES & LEADERSHIP EVENTS
CUSTOMIZED INSIGHT ON THE ISSUES THAT MATTER!
Jim has spoken to over 2 million people, for close to 30 years, on 5 continents
a master of delivery, with well-honed stage presence and style
he has an established reputation as THE thought leader with very detailed, extensive, industry-specific insight
this includes keynotes on agriculture, finance, insurance, retail, manufacturing, healthcare, energy, sports, transportation & infrastructure, consumer products & more
no two presentations have ever been the same
each is carefully crafted based on particular client issues, trends, and requirements
Jim conducts extensive, in-depth research using sophisticated online research tools that lead him into research papers, industry reports, news media, and more
most keynotes and leadership meetings involve 25 to 50+ hours of customized research prep
his insight is enhanced by unique insight shared with him from his global Fortune 1000 client base
most of his events have been for senior executive leadership teams
many of the topics covered have been related to fast-emerging disruptive trends that require immediate team coordination
EXTENSIVE, CUSTOMIZED
INDUSTRY-SPECIFIC EXPERTISE
"How long have you been a farmer?" asked one audience member of Jim after his keynote for a global agricultural organization.
That's a testament to the massive in-depth industry expertise that Jim Carroll carries onto the stage for his highly specific, information-rich, heavily researched industry keynotes. He has *extensive* expertise in all of these industries and can delight you with his background and share a list of the global clients within the industries who have arranged for his industry insight.
agriculture
banking and finance
education
insurance
healthcare
automotive, trucking, and transportation
manufacturing
retail
science and
global economic development
Need to know more? Visit Jim's industry page -> https://industries.jimcarroll.com
INVALUABLE, UNIQUE, CUSTOMIZED INSIGHT: A STUNNING ARRAY OF COMPLEX TOPICS IN LEADERSHIP KEYNOTES BY JIM
"The future of the space industry" for NASA – twice – in Houston and the Goddard Space Center
"The future of pharma and healthcare" for Pfizer in Paris – 6 months before Covid
"The future of golf" for the PGA of America in Boston and Orlando
"The future of manufacturing in 3rd world countries" for the World Bank in Morocco
"The Future and the Next Economy" for Blackrock in San Francisco
"Innovation in the World of Upside Down Trends" for the Walt Disney Corporation in Hollywood,
"Self-Driving Cars, Electric Vehicles, and the Sharing Economy" for Mercedes in Detroit
"The Acceleration of Legal Risk in the Era of Disruption" for Baker McKenzie, Dallas and Chicago
"Celebrating Innovation at the 100th Anniversary Gala Dinner" for Nikon, Tokyo
"Aligning To The Future of Counselling & Recreation" for the US Air Force & Navy Child Youth Programs, Dallas
"The Acceleration of Personalized Medicine in the Era of Exponential Genomics" for Genentech Pharma
"The Future Impact of Internet of Things" for Whirlpool / Maytag, Chicago
"The Future of Insurance" for New York Life, New York
"Prognostic Diagnostics, Self-Driving and the Future of Trucks for Volvo / Mac Trucks", Dallas
"The Future of Careers and Knowledge" for WorldSkills, Sao Paolo, Brazil
"The Disruptive, Transformative Trends of Our Time" for the Wall Street Journal, New York
"Transitioning Industrial Markets" for General Dynamics / Northrop Grumman: Charlotte
"Brand Innovation At Speed " for the Consumer Electronics Association CEO Summit, Ojai, California
"Innovation Strategies for Financial Advisors & Financial Organizations" for the National Australia Bank, Sydney, Australia
"Competing in the Global Economy", Fidelity Bank (Cayman)
NEED VIRTUAL?
ONLINE LEADERSHIP EVENTS –
MEET JIM'S WORLD-CLASS VIRTUAL STUDIO!
Virtual insight from a sophisticated studio setup:
BROADCAST QUALITY VIDEO: 3 Canon M200 DSLR's with professional quality wide-angle lenses with multiple camera angles
BROADCAST QUALITY AUDIO: Sennheiser XSW-3D wireless lavaliere microphone, supplemented by 2 Hotec wireless lapel mics
PROFESSIONAL LIGHTING SETUP: 7 upper stage rack lights supplemented by 3 floor lights, plus 2 overhead flood lights and side face lamps ensure a properly lit studio scene
CONFIDENCE 'STAGE MONITORS': allowing Jim to monitor and control the show flow live
4 MACINTOSH IMAC/MACBOOK PRO WITH ECamm.Live and NDI Integration: the most sophisticated OS/X production platform, combined with integration with other platforms for screen sharing, interactive polls, Q&A and resource offloading
STREAM LABS STREAMDECK and LOGITECH STAGE REMOTE: pushbutton and remote advance show and flow control
FULL GREEN SCREEN with OVER 500+ VIRTUAL STAGE SETS: professionally produced 3d virtual stage sets provides for professional broadcast quality productions
STOCK IMAGE, AUDIO AND VIDEO LIBRARY: providing context and scene-specific content
APPLE MOTION GRAPHICS: for special effects and titling
GIGABIT ETHERNET: 1000MBS DOWN, 30MBS UP allowing for 4K broadcast distribution
RESTREAM INTEGRATION: for simultaneous distribution to YouTube, LinkedIn, Facebook Live, Twitter, and other platforms, including custom RTMP destinations
You will not find any other professional keynote speaker virtual broadcast stdio of comparable quality. Contact Jim for a live tour!
Your Post-Covid Strategies
Keynote Topics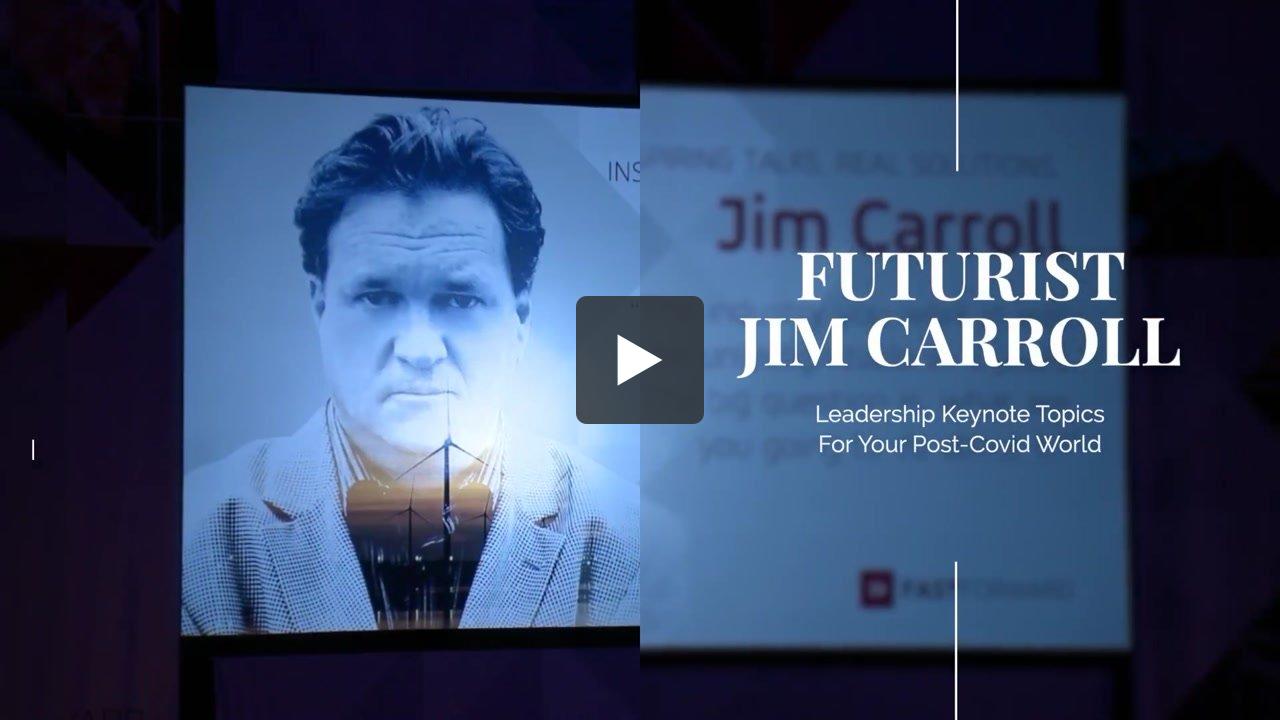 DAILY INSPIRATION 
Insight from Jim's Virtual Broadcast Studio or from the Stage
Daily Leadership Insight from Jim Carroll
"A Motivational Commentary on Trends, Disruption & Transformation to Start Your Day"
Stages!
Hundreds of events, 2 million+ people
Highly Customized Topics, Extensive Research, Detailed Insight – See an Extensive List of the Unique Projects Jim has Taken On for Global Leaders
BOOKS BY JIM CARROLL
Think Big, Start Small, Scale Fast
The Future Belongs To Those Who Are Fast
Ready, Set, Done
What I Learned From Frogs in Texas
Now What?
Trends & Strategies for Your Post-Covid Future
"The Global Pandemic Has Placed a Giant Fast Forward Button on Every Industry"
INNOVATION INSIGHTS
If you keeping doing the same old thing, you'll end up with the same old thing!
Extensive Specialized Industry & Topic Experience
"Browse through the vast, highly specialized, customized insight Jim has delivered to global leaders – learn why you'll gain future trends insight from Jim that you won't see elsewhere"
ACCELERATING INTO A POST-COVID RECOVERY!
The global pandemic has shifted the axis of the global economy, business models, customer behaviour and more.
It is by aligning to a massively different new reality that organizations will find their path into this 'next economy.'
Jim's insight is more important than ever before as companies begin to seek the path to recovery.
Since the crisis began, Jim has been providing clients with detailed, industry specific insight on what comes "post-Covid."
You can fall behind – or you can choose to accelerate through uncertainty. Contact Jim today!
GLOBAL REPRESENTATION
Jim Carroll is represented and brought into events worldwide by some of the world's leading global speakers bureaus – those who represent other global icons, politicians, and business leaders.
The same agents who book some of the biggest names in the global speaking industry also regularly bring Jim Carroll into their clients, knowing that he delivers the unique insight that their world-class clients require.
BARACK OBAMA
JIM CARROLL
MICHELLE OBAMA
GEORGE BUSH
JIM CARROLL
COLIN POWELL
MICHAEL DOUGLAS
JIM CARROLL
RICHARD BRANSON
Partial Client List
BLOG
READ MORE
THE FUTURE BELONGS TO THOSE WHO ARE FAST
features the best of the insight from Jim Carroll's blog, in which he covers issues related to creativity, innovation and future trends.
VIEW MORE QUOTES