"The format might be different but your objectives shouldn't be!" – Futurist Jim Carroll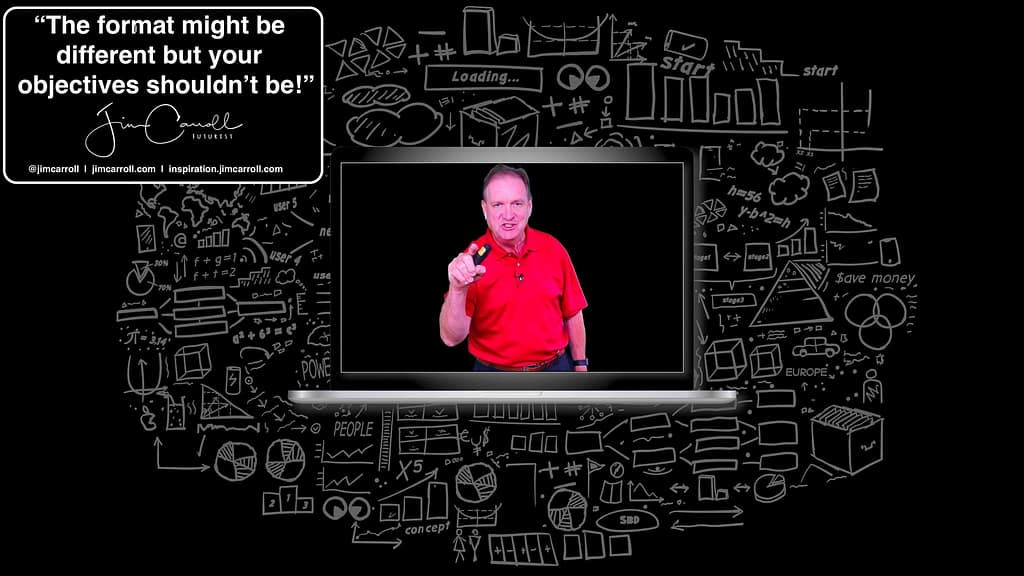 I'm speaking to several hundred teachers next week in a virtual event before their return to 'class,' whatever that might happen to be.
I spent some time in the virtual studio yesterday pre-filming a few of the video clips that I will use throughout my one hour talk – the format of what I do might be changing, but my objective hasn't. And so if you follow me on social media, you would have seen a few of these clips, as I find it easier to go live when filming! 25 years will do that to you! I will be live for a good part of the event, with Q&A, discussion and polling – but will have a number of pre-taped 'knowledge clips' delivered throughout.
In other words – my format might have changed. My objective hasn't – to challenge them on their role as teachers in a world of massive, relentless change.
It's a dramatically difficult time to be a teacher – and millions are obviously struggling with their imminent return to a world that is so uncertain – from so many different perspectives. I can't and won't address the issues related to the safety of the return to class as is happening in some jurisdictions – my client has not booked for that purpose – and there are people far more qualified from a scientific and health perspective to speak to those issues.
But I will talk about issues related to knowledge delivery and format changes. This fall will see a mishmash of different knowledge delivery methodologies, from actual classroom instruction to distance education, with all kinds of variations in between. Just like my own industry, education has been torn asunder, and is trying to figure out how to forge ahead in a zone of massive uncertainty. Many teachers will and are struggling with the new platforms – at the same time that many of the kids they are trying to reach could probably offer them technical support. The generational technology chasm is massive!
I'll talk about that issue but also so much more – including the big issue: we need to prepare students for jobs that do not yet exist, based on knowledge not yet generated, for people who do not yet know what their future world will look like.
And somehow, we need to do that, in many cases, in a new, different and ill-defined online format. That calls for innovative thinking – and always keeping in mind the key objectives despite a zone of uncertainty!
Just like my world!