I had the chance the other day to be the opening keynote speaker for the PGA of Ontario Golf Industry Expo. It was a barnburner of a talk!
A technical glitch meant that I didn't get the talk on film – it's been an interesting week! The very next day, outside of New York City, my next event had a power outage 5 minutes before I went on stage. After it was restored with a 20 minute delay, it then went out on me again 12 minutes into my keynote! As they say, whatever!
So with that I'm going to give you a LONG blog post to give you some insight into the issues I covered, since there was a lot of important content related to growing the game through innovative thinking.
First things first – what was most exciting about this keynote was that my son was on the agenda on the very next day, speaking to the role of drone technology and digital mapping in golf course management; he also had a booth at the trade show.
His company, Location Intelligence & Design, is at the leading edge of golf survey / marketing via drone technology – he did a talk as well as speaking to folks from his booth on the trade show floor. I'll have a blog post on what he covered later on, since it is an important trend. For now, read a case study of a golf course flyover here.
It's a fascinating new industry, and brings together what I've been speaking about for years in terms of the emergence of new careers, fast science and accelerating technology.
Onto the keynote  – if you follow me, you know that many of my talks start out with the theme and storyline that the Jetson's TV show, set in the year 2062, has actually arrived earlier than expected.
The folks who wrote the Jetsons in 1962 had an uncanny ability to predict the future when the show was put together – they even predicted launch monitors and range finder technology!
So where do we start with a talk about the future of golf? Let's begin with the most common narrative – it's an industry that is dying, in decline, terminal!
The reality on the ground is actually quite different. For this insight, I reached out to Seth Waugh, the CEO of the PGA of America. His insight speaks for itself.
So what comes next in the world of golf? Certainly an acceleration of trends as technology comes to take a hold of the industry. Consider the Bubba Hovercraft which he demoed a few years ago – it runs on both land and water!
We'll see fast and massive innovation with all kinds of golf technology and the infrastructure o the course – including, most likely, self-driving golf carts.
Of course, like any industry, the arrival of trends into the industry is very much dependent on the Gartner Hype-cycle – any trend goes through a peak of excessive hype before it becomes mainstream.
This might be what is happening with game tracking technology which was all the rage a few years ago. I'm a heavy GameGolf user with about 400 games in my overall stats. I've got an incredible amountof 'big data' on my golf game. But by and large, adoption has not been widespread, because any new technology tends to follow the Gartner Hypecycle curve.
That said, it is undeniable that when we cast our minds into the future of golf, anything is possible. When I keynoted the PGA of America annual general meeting in 2010, I suggested that one day we might have golf balls with webcams' embedded in them, and that we'll use this technology for more insight into our game. That's obviously not yet here, but might be one day in the future.
How did people react in the room in 2010? Probably the same way you are thinking right now!
And yet, the golf industry said the same thing wth the arrival of golf cart technology in the 60;s
Rangefinders? They were going to ruin the game – look what was said as recently as 1995!
Here's a clip from my PGA keynote where I'm talking about that very issue!
So what will happen in golf with tech? Drones for one thing! People will use them to film their golf swing, track their game … we might even have a golf cart with an auto-follow drone that might film a round! I actually wrote about this potential reality when I wrote an article for the PGA – "What Are You Doing to Do With the Arrival of Drones?"
What is the biggest trend? The arrival of a new, tech savvy golfer … One thing we know for certain – today's junior golfer lives in a different world.
A child today, for example, is already growing up with interactive sports technology, such as baseball bats that provide detailed swing analysis. It's inevitable that this trend will continue with golf clubs and other golf technology.
And the fact is – they're gamers, living in a world of constant interaction! That's why disruptors like TopGolf are growing so quickly!
So how do we innovate in the world of golf and achieve growth? By reaching out to these kids in the world in which they live, and to their mom's – who live in an interactive world. My slide  from 2010 PGA keynote emphasized this point- and keep in mind, this is old data.
Here's a clip from that keynote:
Back then, I suggested that at the end of the day, if a Mom saw a post of their child on a golf course smiling – they'd keep them coming to summer golf camp, junior leagues and more. That's what I was suggesting to my ski club at the time, which I evolved into a post, The Ski Resort of 2015.
Of course, what do we see today? PGA Pros like @michelleholmesgolf @erikalarkinpga and @focusgolfgroup from my home club doing exactly that. Look at the number of followers each of them has on Instagram – something BIG is happening here!
So how do we reinvent and grow interest in the sport? I went through a list of 10 offbeat ideas! Ideas are energy. Ideas are oxygen! Ideas are insight! Ideas matter!
So, what do we do with this insight? Adapt! I always use this slide to lead into some practical observations…
Years ago, then PGA President Derek Sprague shared with me his thoughts on how the role of the PGA Professional had changed.
For this presentation, I reached out to Michael Leemhuis, the leading global expert on innovation in the private golf club scene. His advice? Follow the key trends – fitness, technology and family.
Seth Waugh emphasized the importance of experience rather than selling:
He shared some fascinating stats to back this up.
Note his last comment: "embrace the disruptors." And the fact is, the disruptors are coming. One very innovative platform is found with OpenRounds, which puts a bit of an AirbNB structure on top of informal private club booking transitions which goes back years.
And then, of course, there is TopGolf, DriveShack and other golf-entertainment opportunities.
I interviewed the COO of TopGolf when I keynoted the PGA Merchandise Show in 2016: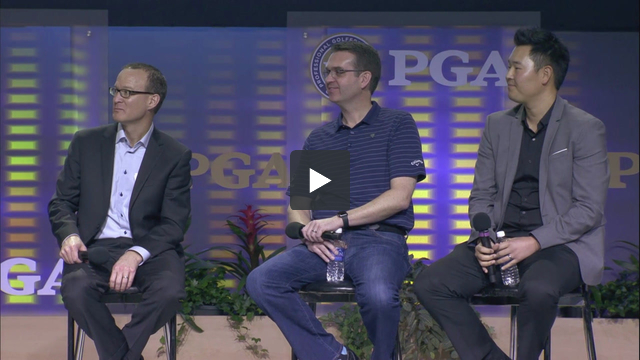 The pace of technological change is defining the future of every industry – including golf! And growth? It's all about the kids, embracing disruption – and perhaps most important, changing the narrative.
The PGA of America has had me in – twice – to headline major events, including their annual general meeting. I continue to talk within and around the industry – tomorrow, I keynote the PGA of Ontario, and in the spring, the Golf Course Superintendent's Association of Canada.
Here's a clip that summarizes some of my observations from two of the events!
The future of golf? I filmed this while at Torrey Pines for a keynote!

You might also want to watch this clip:
Want to learn more? Visit my golf industry topic page at: https://jimcarroll.golf