"Here's your challenge: you need to sell a widget, but it's not a widget anymore!" – Futurist  Jim Carroll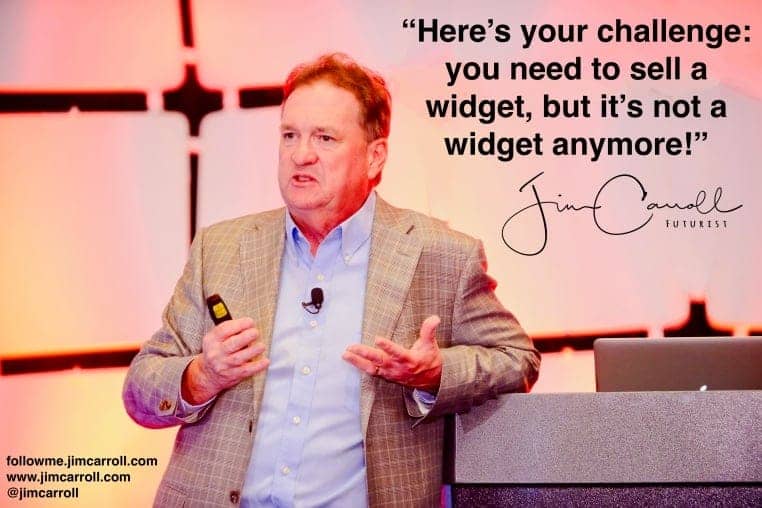 I'm in Nashville this morning, and in a few hours will speak to the annual sales conference of a company in the medical device industry. They sell medical devices.
At least, the sales people thought they did. They don't anymore.
They now sell this weird, new, hyperconnected, data-driven, AI intelligent, predictive solutions oriented solutions thing.
It's certainly not a widget.
It's a bit of a problem, really, if you try to sell stuff but you don't really know what it is you are selling.
That's where I come in. I've got 45 minutes to take their world apart and put it back together for them.
It should be fun!
This situation is a pretty common problem. In many industries, the widget problem is driven by 'Amazonification' – companies need to sell something different when Amazon sells essentially the same thing but at a lower price.
Amazon is the elephant in every industry room. They are challenging and disrupting business models in every single industry.
Why not change that before it changes you? Don't wait for Amazon to disrupt you – disrupt yourself and disrupt Amazon first!
As we witness the Amazonification of industries, deep insight into this massive-but-cheetah-like-elephant is critical, a fast strategy is required.
My key message: Don't compete — transform!
When Amazonian scale disruption occurs, you can't hope to complete on price, the sophistication of the online interaction, or the other areas in which Amazon (and similar disruptors) clearly excel.
You need a different proposition, different ideas and a different strategy. In many cases, this will come about through an implicit decision to compete based on the unique value you can bring to the relationship – service, support, personal interaction and other factors.
In doing so, you specifically choose to not compete based on a race to the bottom and price.
And so, you aren't selling a widget anymore!