"There's still time to turn your life from monochrome to Technicolor!" -= Futurist  Jim Carroll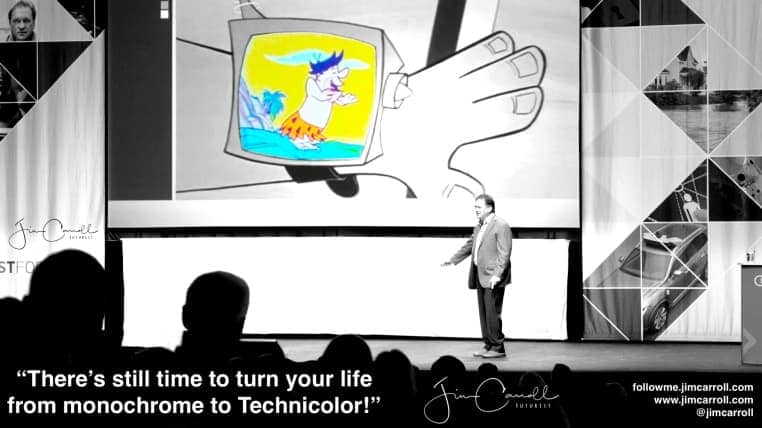 A shoutout to my son @wcfotography for helping me with the picture – I'm still mastering the skill of photomasks! Never stop learning, but always have a good backstop partner!
It's an interesting stage picture. The Jetson's TV show featured an Apple Watch, but in weird fashion, it was running an episode of the Flintstones TV show. With that, perhaps they also predicted the emergence of TV reruns, even though TV was barely in use in 1962!
With that observation out of the way – how are things? Is your life dull, routine, boring, mundane? Are your days filled with the same old, same old? Do you find yourself caught in a trap and don't know how to get out?
Is every day the same?
It's difficult to get stuck in a rut – and it can be excruciating, painful and exhausting as you try to get out.
But you never give up. The mark of success comes from perseverance, effort, goals, relearning and motivation.
The first step is to make a firm commitment to escape.
Once you've done that, you've made a great first step!
The rest is up to you!
Then commit to learning and relearning. "Learning is what most adults will do for a living in the 21st century" – that's a phrase that neatly captures the reality of the fast pace of change that envelopes us.
Why not try to upgrade your skills and knowledge on a regular basis?
I don't know how to turn a colour picture into black and white and yet keep a small part still in colour – but I'll learn!
Why not establish some "playtime" where you try out a multitude of new technologies and ideas? Why not pursue some frivolous activities with a goal in mind – to learn something new that you've always wanted to know.
Maybe you'll get some unique insight that doesn't come from traditional, boring, staid educational programs!
And maybe, it will help you in your transition from black and white to Technicolor!