A futurist must always be a relentless optimist, particularly on stage. We've been engaged to provide a tour of the future that provides our audience a sense of hope and opportunity. As I will often joke, I can't go in front of a 1,000 people and start out by saying, "Guess what! Your  future sucks!"
Unless it does. Then you spin the message in a different way.So here's the thing: in 2019, you'll see lots of volatility rock your world. We're in the tail end of one of the longest economic expansions of history, and it won't last.
With that, you need to be in a mindset as to how you can innovate as this new era of uncertainty envelopes your life. Fortunately, history provides us a path and guidance.
March 2009 was the absolute bottom of the last downturn. Coincidentally, I found myself Las Vegas with my largest ever audiences from two global companies, speaking about the future and innovation. The CEO of both organizations wanted me to help people understand that they needed to focus on the future, not the present, NOW. Revisit this video through the year. You'll need it.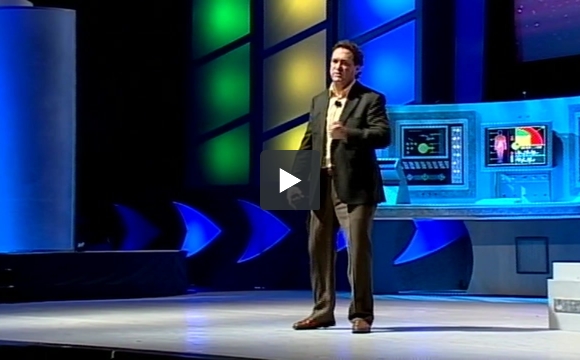 The focus of these two talks became a key part of my stage focus over the next several years – I actually built a pretty successful business simply "talking people away from the edge." It really became a motivational keynote on coping with the new era of volatility.
Keep this clip too. You'll need it in 2019.
How surreal was it in the depths of the downturn? 10 years ago this month, I found myself speaking at a small, private event for a global consulting firm. In the room were the Chief Operating and Chief Information Officers for 15 global insurance companies. The biggest ones in the world. Theirs was a world of doom and gloom – big organizations were disappearing, financial structures were collapsing, layoffs were accelerating, initiative was dying.
There really was a sense within the room that the future was over; that the economic malaise was so bad that much of the future would be put on hold for an extended period of time.
I vividly remember taking them on a tour of the scientific, technological, disruptive and other trends that would continue to provide massive opportunity going forward. My message was laser like: "you can choose freeze and stop and let aggressive indecision rule your world, or you can choose innovate, change and adapt!" History has taught us that those who choose the latter were those who win.
It was my highest rated talk ever!