"Don't just stay one step ahead – make it a few years instead!" – Futurist  Jim Carroll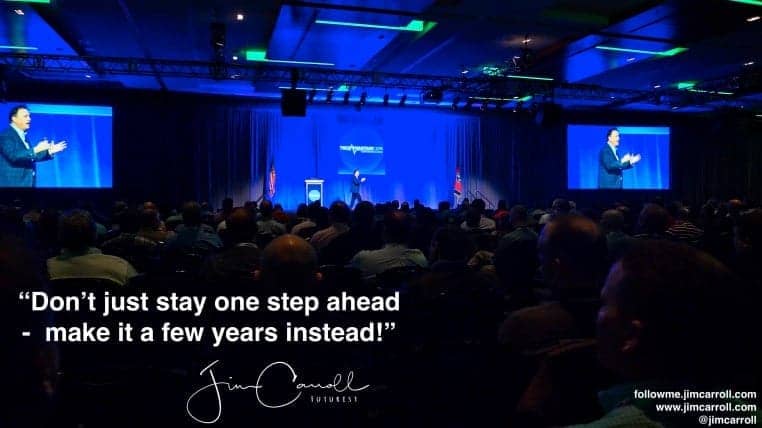 After all, the odds are pretty good that is where you will spend quite a bit of time.
After many of my keynotes, I'm approached by people as I leave the stage – "how do you figure out what is coming next? How do you make your predictions?" A lot of them are based on common sense; casting forward existing trends; by listening to other people who are smarter than me; by spending an incessant amount of time thinking about what comes next; and by doing a tremendous amount of research.
Plus, I'm weird. I might often have very bad spatial awareness about something gone on within a few feet of me right now while I order what this situation might look like in 2025. I will forget something I need to do in the next 10 minutes while pondering what this day might look like in 50 years. I'm often accused of forgetting about what is important *right now* as opposed to what is important *tomorrow*. Its a mindset.
It's also a pretty poor excuse at trying to get out of vacuuming. Trust me, I've tried.
You should be your own futurist. This doesn't mean that you need to jump full speed ahead into studying trends in depth. It just means you should develop a finally tuned trends radar that gives you some insight into things that might impact you.
Spend a bit more time thinking about a current reality, and cast it into a new realty.
The goal will be to have a better understanding of how to adapt and align to the change that will inevitability come about.