I'm off to Dallas this morning. I'm honoured to be the opening keynote speaker for the 5th Annual Partnership Summit. A few other folks are there to offer up their opinion as well!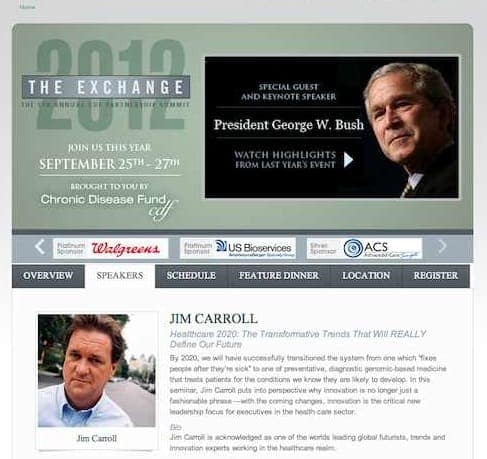 (Incidentally, my keynote has been moved back a half hour to start earlier — apparently the Secret Service need to kick me out earlier to do a security sweep for the special guest appearing later in the day!)
It's a pretty significant event, and a pretty important organization. As noted on their Web site, "People with chronic diseases share a common experience – bad days and good days. Good days come from breakthrough medicines that are amazingly effective but often cost thousands of dollars a month – even with the best insurance. That's where Good Days™ comes in." The significant sums of money raised by the foundation go to assisting patients with the tremendous cost of care — prescription drugs and other funding — that is associated with their chronic condition.
I'll open the topic with a keynote on the topic that has kept me extremely busy through the last year, with clients such as CIGNA, Stryker Technologies, the North Carolina Hospital Association, the American Association of Preferred Provider Organizations, Physician Hospitals of America, the Mercy Health Care Group — and quite a few more:
Healthcare 2020: The Transformative Trends That Will REALLY Define Our Future
By 2020, we will have successfully transitioned the system from one which "fixes people after they're sick" to one of preventative, diagnostic genomic-based medicine that treats patients for the conditions we know they are likely to develop. In this seminar, Jim Carroll puts into perspective why innovation is no longer just a fashionable phrase —with the coming changes, innovation is the critical new leadership focus for executives in the health care sector.
Being selected to keynote so many conferences on this theme shows me that one very significant trend has long been underway in the US
while much of the political debate over health care reform still goes on, a good deal of f it has nothing to do with reality
major health care groups, professional associations, companies, insurers are well underway in pursuing the real, significant opportunities that exist for innovation in the health care sector
there are many groups that are working hard right now to get involved in the most significant change coming to health care in the last 100 years — a trend that clearly has the system go upside down
it's being driven at a senior leadership level by people who understand that there are many opportunities to pursue right now — which is why "innovation is the critical new leadership focus for executives in the health care sector"
If you'd like to understand this in a little bit more depth, try out a few of the related posts below, or work your way through the health care section of my blog.
And if you are looking for someone who can open up the eyes of your clients, staff, Board of Directors or other to the transformative trends driving health care today, feel free to give me a call!