"There's the future that you think you'll have – then, there's the future you will actually have!" – Futurist Jim Carroll
We are often a byproduct of our own indecision – and it's the things we don't do that can cause us the most grief in the long run.
And one of the most important things that we need to do at this very moment is to challenge ourselves on the issue of the timing of future trends – because what we thought was going to be far away will be here sooner than we think!
That's because the future is more volatile and unpredictable than ever before – and faster. Disruptive trends can easily play havoc with your reality, twisting and shaping it into something almost unrecognizable before you even notice. We live in the era of acceleration – and what you thought might happen tomorrow probably already happened yesterday.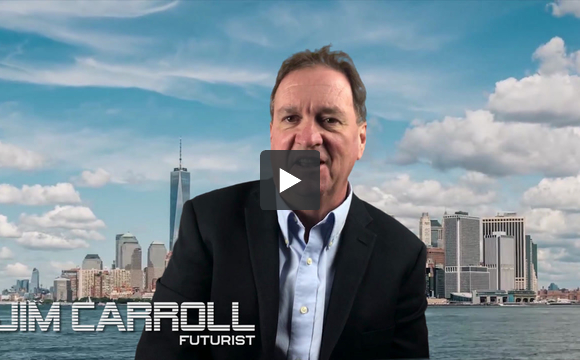 The impact is that most industries, business models, products, and corporate structures will be barely recognizable in less than ten years. Do you really understand the transformative depth of change that is underway – or are you marching forward in a fog of complacency, with your future view being the perfect storm of unreality-based contradictions?
To really understand the future, you really need to comprehend what we're talking about when we refer to the 'era of acceleration.' Change used to occur at a slow, leisurely place – companies and people had time to adapt. That's no longer the case because it's the impact of multiple trends coming together all at once which means that the essence of time-change has forever changed.
Case in point? Car companies are being caught as being absolutely flat-footed when it comes to self-driving and EV technology. Just yesterday, GM announced an investment in a LIDAR-based self-driving technology, while it is evident that neural-network vision-based systems are the most likely path to intelligent car technology. Left behind, GM is investing in yesterday's technology while tomorrow's tech is already here today. Oops!
The same thing is happening with electric vehicles – much of Detroit and Tokyo dismissed the idea of a fast shift to EV's. We're now witnessing the acceleration of battery science and electric charging technology at the same time that citizens demand that government accelerate the shift away from carbon. Oops.
What was once fast, is now exponential. If you aren't prepared for that reality, check your assumptions at the door to the future.