Product lifecycles have become shorter ; market longevity is not guaranteed; new competitors emerge faster; customers display less loyalty. These trends and many more mean that you don't have any guarantee that the product or service that you are offering today will be in demand tomorrow – or even relevant.
That's why you need to focus on the concept of continuous reinvention – a mindset that today's line of products or services is not good enough – and must be refreshed and reinvented on a regular, continuous basis. Because as I will often point out on stage, Apple is in a situation in which 60% of it's revenue comes from products which did not exist 5 years prior – and you are finding yourself in the same type of demanding future today!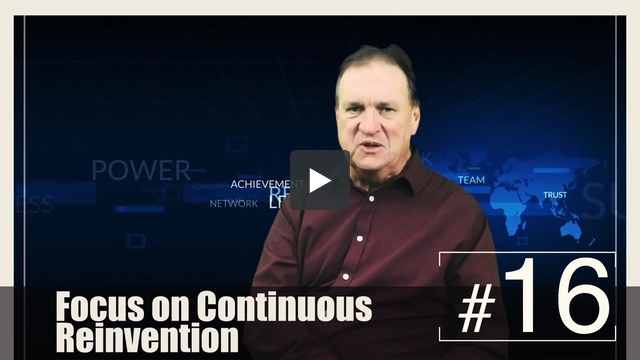 How critical is this trend? It was in my list of 19 Trends for 2019 – ##10 – Continuous Reinvention – as one of the most important trends that leaders everywhere should be focused on going forward!
I actually cover the issue quite a bit on stage – here's a short compilation clip from a few different conferences:
The issue is particularly important for manufacturing organizations – as I outline in this particular clip from the BigM Manufacturing Conference in Detroit.
The concept was first crystallized in a leadership series that I began running around 2010 – "What Do World Class Innovators Do that Others Don't Do?". This clip captures the essence of the story. Learn more -> https://worldclassinnovation.jimcarroll.com
The simple fact of the matter is this – standing still is no longer an option. Continual, rapid reinvention is one of the key aspects of your future success!