"It isn't just what you say, but the skill with which you say it!" – Futurist Jim Carroll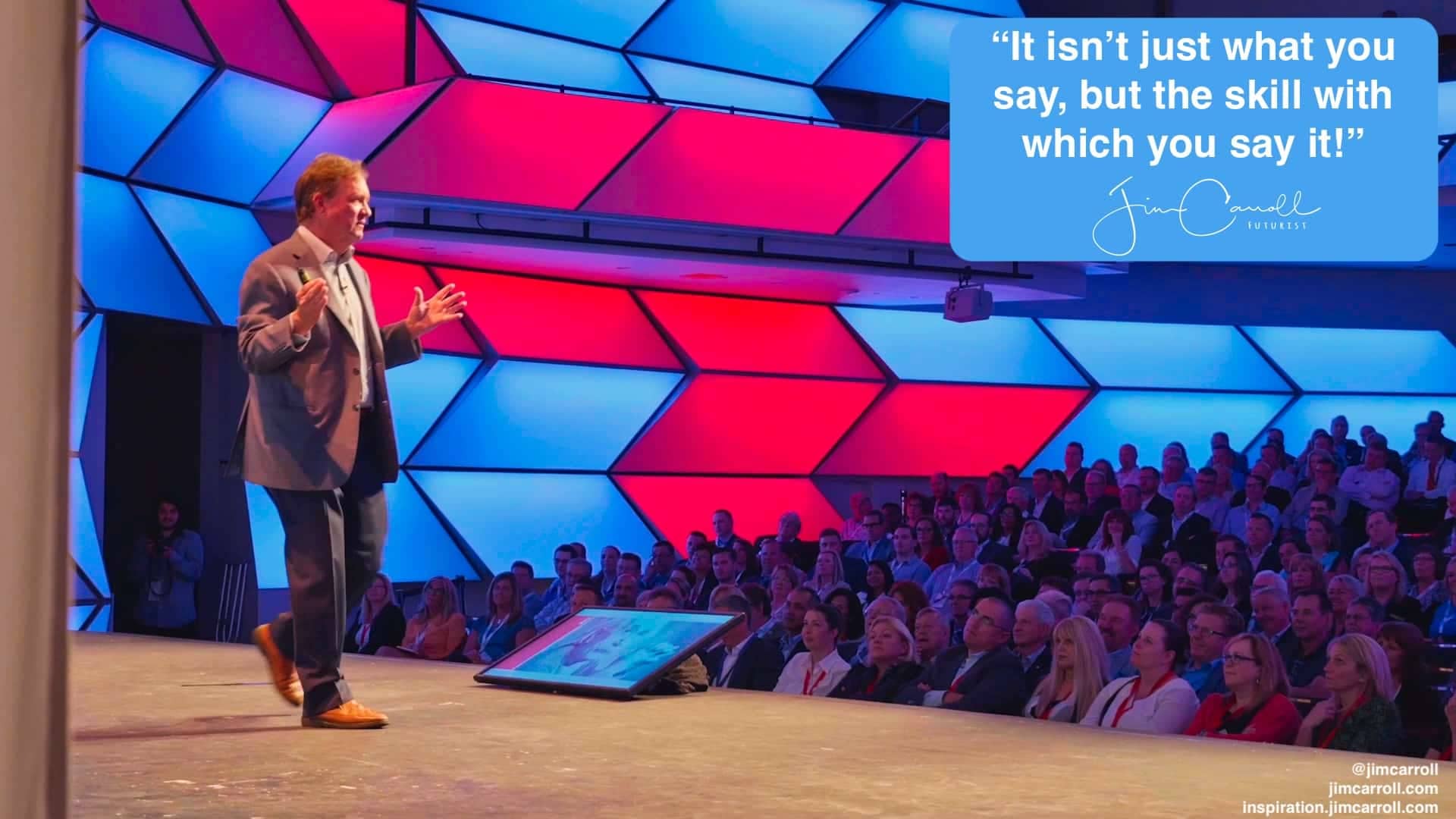 Your ability to tell your story might be one of your most important skills – clarity of insight is critical. The ability to do that in front of a large crowd might be even more important.
While today I might find myself on stage in front of audiences of a few hundred or thousand around the world, I can't say it all happened by accident (though much of it did.)
Around the age of 11, my parents signed me up for the local Optimist Club public speaking group. A small group of us would get together, once a week, to learn a little bit about the subtle art of getting up in front of a group of people, armed only with your words, to try to win your point. 
It was an exciting time: I seemed to take some joy out of the activity. While my friends were busy playing hockey, I was learning how to speak. Kind of weird, actually.
But I seemed to get into it! At the end of the year, I found myself headed to the regional competitions. 
My talk? "Our Challenge: Involvement!" I vividly remember the opening lines: "In 1964, young Kitty Genovese was brutally murdered in New York City by a gang in complete view of a group of strangers. No one stepped forward to intervene…."
My talk was a damning indictment of a society that was too self-absorbed to care for their fellow man. My mind at that time was hard-shaped by the recent assassinations of Martin Luther King, Robert Kennedy, rioting on the streets.
To prepare for this big event, I practiced my speech continuously – in front of a mirror, to my Grade 7 classmates, and probably to their dread, my other friends. 
The big day arrived – I was convinced I would win!
I lost!
To some kid who was younger than me who had a squeaky, whiny little voice! 
I remember being crushed – I actually cried in the car on the way home.
It's a silly little story, of course, of a kid on a stage. 
I lost. But in the long run, I won – because years later, I'm convinced that this little bit of learning had a huge impact on my ability to later get up on stage in front of thousands, and make a point