"Forget about today! Have you mastered your situational awareness for tomorrow!" – Futurist  Jim Carroll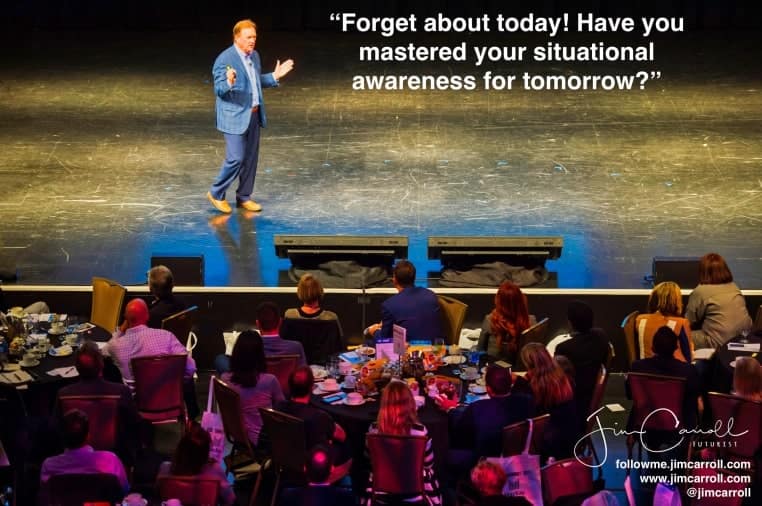 So I spent the weekend on the ski hill, and it's the moment of the moment that matters! Otherwise, it might not go so well.
Someone once observed that what they loved about skiing was that, in challenging conditions, you really can't spend much time thinking about anything else. You've got to be a master of your situational awareness at every moment in order to safely make your way to the bottom.
During the chair ride up, a good friend of mine was talking about the concept of situational awareness and its importance in skiing…. and my futurist mind lit up a fire as if I was preparing for the Streif at Kitzbühel!
Forward oriented situational awareness!
You can't just be aware of where you are today – you'd better make darn sure you've got awareness of where you will be tomorrow! At the same time that you take things one day at a time, you'd better be certain that you are already ready for what tomorrow might bring!
And so while you spend your time focused on the situations around you that you must manage right now, what are you going to do about what the ones that might arise tomorrow?
That's what was running through my mind. That is, until my next run. It went all downhill from there, so to speak.
Here's the thing – when you are skiing, you've got to have a fast situational radar happening at all times – who is in front of you, who might be behind you, what might happen with that mogul in front of you, and oh – look at that long rut 20 feet ahead!
You need a great forward oriented trends radar to innovate: great ideas won't just magically come to you, but start when you read or hear something that sparks a different line of thinking. Your situational awareness for tomorrow should help you to discover trends before they become trends!
By making sure you've got a good radar that's attuned to the future, you're always assessing what comes next. You aren't just in todays situation, but you are already actively working the situations of tomorrow!