In your life, you discover real magic when you share the stage with a special needs child who knows nothing but love and joy – and who gives you a fist bump with a huge smile on his face.
That's what happened on the weekend, when a 26 year young adult with Down syndrome ran up to join me near the stage while I was offering up a few words at the annual Christmas dinner for Events for Life. Thomas Butler, my good friend with the fist bump, unexpectedly came to join me! It made for a moment in a short talk that I won't soon forget. Watch it now – and listen to my message!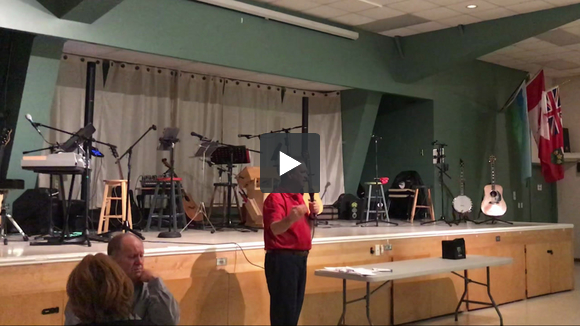 Events for Life is a charitable initiative for special needs young adults in Thornbury, Ontario, near our ski chalet. My wife Christa Carroll is on the Board of Directors; I'm their techie-geek, doing behind the scenes work with their Web site, IT stuff and more. My son Willie Carroll is also fully involved with additional IT support. My other son Tom spends time on the ski hill with both Thomas and the young fellow Michael Simon also mentioned in my talk.
We as a family are fully engaged in this initiative; it is teaching us much about the role that we can play in helping those who might be considered to be less fortunate.
Thomas is a member at my ski club; I've experienced the magic of watching and going with him as he snowplows down the hill in his own unique style. He spent 3 hours with me on the hill one day – that meant a lot to me, since I seemed to have broken through. I've learned lots!
EFL has had a profound impact on my life, and my understanding of the world around me. If you do anything today, invest some time with some special needs children and adults. They can teach you more about the world than you might ever know.
Visit us at https://eventsfor.life