10 REALITIES ABOUT YOUR BUSINESS MODEL
"If you aren't busy thinking about to disrupt your business model, someone else probably will!"
Disruption is real, it's big, and it's happening faster than you think.
My job as a futurist has me doing an increasing number of CEO level events for Fortune 500 companies around the world, participating in leadership meetings which are focused on the massive transformations and disruption occurring in every single industry. Clients such as NASA, Disney, Godiva, Nikon, Mercedes Benz, Johnson & Johnson, and many more.
All of them know their business model is changing, and have realized they need to change it – before it changes them.
Will you do the same thing?
The Reality of Your Business Model
Right now, there are probably a bunch of really smart people figuring out to disrupt your business model
If you aren't busy thinking about disrupting your business model, they most certainly will.
They'll probably do this sooner than you think they will.
The result is that 10 years out (or less), your business model will look nothing like it does today.
Those that do mess up your business model are quite likely to be younger than you; for many folks, age provides for complacency.
The fundamental change to your business model driven by this younger generation will be the result of digital, smart, intelligent, location-oriented technology.
They'll use this technology in such a way they'll come out of the left-field with a business model idea that you've never even thought of before.
Their business model will carry an undeniable 'coolness factor that you can't simply match.
Most likely, you'll discount the importance of their innovation, until it is much too late.
The result will be dramatic change: it's likely that your current business model will not even survive: and your company might not as well!
Jim Carroll spends time with organizations worldwide, providing his insight at large-scale conferences and internal, private leadership meetings on the reality of business model disruption.
Explore some of his Topics and Trends – and in particular, his keynote Disrupting Amazon: Accelerating Strategies for Success in the Era of Industry Transformation
RECENT BLOG POSTS ABOUT BUSINESS MODEL DISRUPTION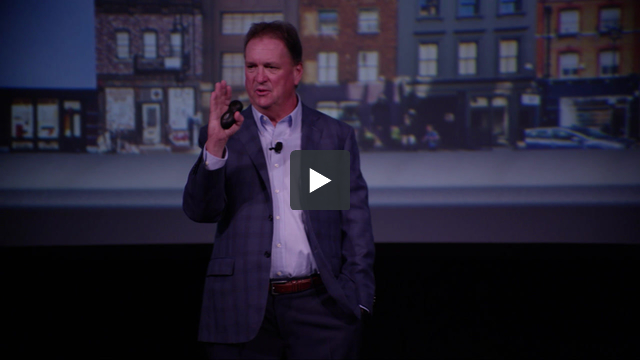 WATCH AN AUDIENCE RESPOND TO THE QUESTION OF BUSINESS MODEL DISRUPTION
Do you think your business model will survive into the future?
Check this clip – Jim is doing a live, interactive text message poll with his audience, asking them that very question.
Watch the results unfold in real time – and then ask yourself : would your audience react in the same way?
Here's More Insight to Get You Thinking About Business Model Disruption!