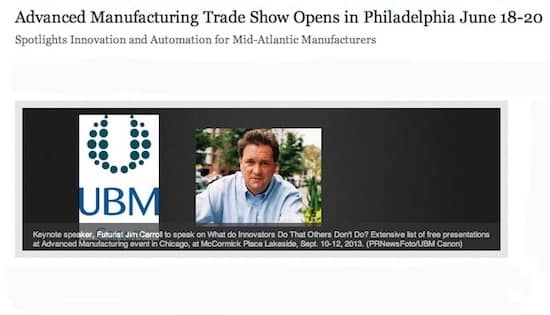 This coming Wednesday, I'll be in Philadelphia, where I will be speaking at UBM Canon's Eastern Advanced Manufacturing Expo and Conference on the theme, "What Do World Class Innovators Do That Others Don't Do?"
This will be a wonderfully fun keynote. It will touch on many of the different topics I have been speaking about lately: intelligent, inter-connected packaging, smart medical packaging that monitors whether patients are properly taking their medicine, and the emergence of intelligent medical device connectivity.
There's a common belief in the US among average folk that US manufacturing is still in a state of decline. Nothing could be further from the truth; there is a massive renaissance in thinking underway, with new design methodologies, rapid prototyping, fast implementation of new manufacturing methodologies, the concept of 3D printing which has gone from 'science fiction' to readily available implementation in just a short period of time.
In the world of manufacturing, the future belongs to those who are fast. This should be a great event!
Here's the press release which has done out far and wide announcing my participation.
---
SANTA MONICA, Calif., June 13, 2013 /PRNewswire/ — UBM Canon's Eastern Advanced Manufacturing Expo and Conference returns to Philadelphia June 18-20, 2013, at the Pennsylvania Convention Center in Philadelphia, PA.  With nearly 1,200 exhibiting companies, this event co-locates six tradeshows, along with seminars, industry speakers, industry awards and product teardowns to provide the most comprehensive manufacturing event for visitors and exhibitors on the Atlantic seaboard.
The expositions include the 30th annual MD&M East (Medical Design & Manufacturing East), EastPack (packaging), PLASTEC East (plastics), ATX East (Automation Technology Expo East), Atlantic Design & Manufacturing and Pharmapack North America (pharmaceutical packaging & drug delivery).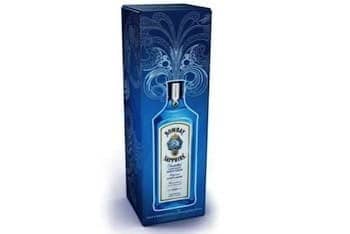 Pennsylvania is a centrally located hub for U.S. manufacturing, with more than 14,500 establishments, employing 560,000 workers. Manufacturer visitors can see a wide range of product and service offerings under one roof. They will see innovative ideas and meet suppliers with cutting-edge manufacturing technology such as 3D printing, track-and-trace medical packaging.
The event provides extensive educational programming that is highly relevant and timely to manufacturers.
Keynote: Jim Carroll, Futurist: What Do World Class Innovators Do That Others Don't Do?
A sampling of free education sessions includes:
A future pill to swallow – Prescribing iPhone apps instead of medicine
Aligned Partnerships: A Better Way to Design and Develop
Considerations in Selecting a System Integrator
Product teardowns include the iPad mini versus the Nexus 7 tablet.
Paid seminars and workshops include topics such as Lean Manufacturing, Robotics, Motion Control, Manufacturing Plant Security, Medical Design & Prototyping, Regulatory, Risk Control and Validation, Wireless Medical Devices, Implantable Medical Devices, Augmented Reality Packaging.