"Your long-standing traditions are likely the very enemy of your efforts at innovation!" – Futurist Jim Carroll
There are certain moments in your career when you know you've hit the perfect shot.
That's how I felt when I walked off stage after delivering the opening keynote for the 94th annual general meeting of the PGA of America, the largest working sports organization in the world, eleven years ago today, on November 5, 2010. I was told that I was one of the first external speakers they ever invited to speak at this event!
The group does not consist of the tournament pros you see on TV – but rather, the hard-working teaching pros you find at your local golf course. As the folks who manage and run your local public and private golf courses, they wanted a talk that would focus on the trends that might help to define the future growth of the game – and so they reached out to me to give them insight into those trends, and how to align yourself to them with an innovative and creative mindset.
As a golfer, this was a huge career highlight – learn more about what I covered, and the specific golf-oriented leadership keynote I offer at jimcarroll.golf
I vividly remember walking into the conference room in Boston at 715am. I vividly remember seeing my stage for the first few moments, and thinking, "you've got to be totally on today, Jim!" I captured the moment on my Blackberry – the photos are fuzzy – and shared it on Facebook.
Little did I know that I would deliver the speech of a lifetime, delivered with a passion and insight for change that came from the heart and that this would feed so many more opportunities going forward.
Here's the thing – when your moment happens, run with it. Give it everything you've got. Draw everything you can from deep within. Here's a highlight clip from that day: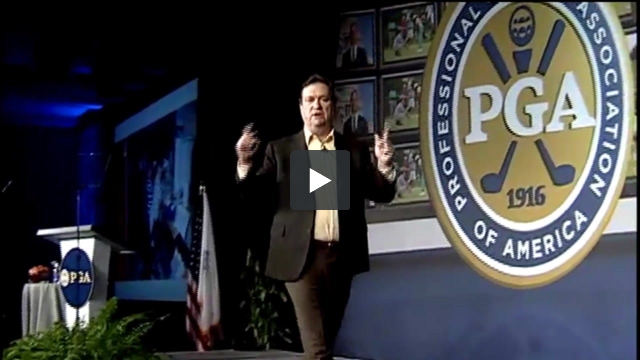 I covered everything that day – how technology would come to change the game, the impact of todays' wired generation, the challenges fo tradition, health and fitness and so much more. It was all there – and when that moment happens, you've got one shot. And when it hits, it's magical!
Here's a playlist of some of the clips from that day, from a follow-up talk in 2016, and a few others on golf!