"The wheels of justice turn slowly – but then, all at once!" – Futurist  Jim Carroll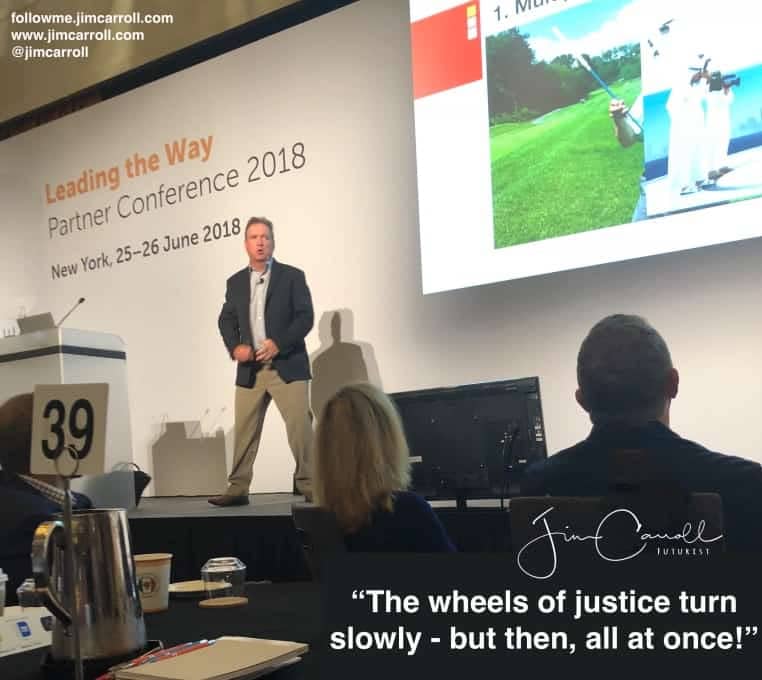 This photo is from my stage yesterday in New York City. With this event, I've now done talks on the future of the law, legal trends and the era of accelerated risk for 5 of the world's largest global law firms. Not a bad track record!
The quote works on multiple levels. First, it's for my golfing buddy and teacher Ian, who is exasperated with the slow pace of justice in the US.
Second, it directly relates to the topic of my keynote yesterday – we live in an era of accelerated legal risk. This involves the rapid emergence of new risk, a new era of era of 'hyperconnected, shared risk' as the Internet of Things comes to define boundaries; more complex – and faster – partnerships as organizations struggle with challenging new business models ; intellectual property issues going through the roof as every company becomes a software driven organization; major skills issues as the volume of legal knowledge continues to accelerated, and so much more!
Third, the level works on the basis that we seem to be in a world in which those who have promised to uphold a national Constitution now seem emboldened to disavow their promise in the name of a war on little children. What a messed up world we live in – but lots of folks have faith in the wheels of justice. We'll see if it lasts.