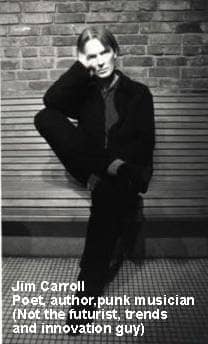 Please note — I am not Jim Carroll, author, poet, rocker singer — the fellow best known as author of The Basketball Diaries .
That's him on the right…… and if you are looking for him, try his Web site here .
I do own many of his albums, have seen the movie, and have read many of his books — and yes, I'm a fan.
Jim does a lot of spoken word on campuses today. He tells a powerful story concerning his upbringing, drugs, and the challenges of addiction. He's a good person, and has a huge number of worldwide fans. I hope to meet him one day.