Unique Topics, Global Events, Deep Insight, Disruptive Thinking : This Is What a Futurist Does!
I'm touring over in Portugal after an opening keynote last week for an event in Morocco for the International Finance Corporation / World Bank.
And while visiting a Moorish castle yesterday outside of Sintra, I got into a conversation with a fellow from New Zealand. As often happens, we shared information on our 'jobs', and I ended up trying to explain what a 'futurist' does.
That inspired me to roll forward this post, which features a number of the high profile events I've undertaken through the years.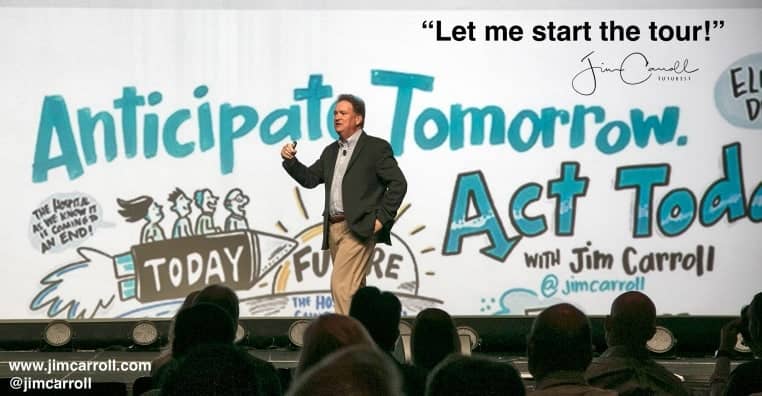 First, let's put into perspective my role – for close to 25 years, I've been on stage, speaking to the disruptive, transformative trends of our time.  Watch his 'highlight reel' to get a sense of what I can bring to your event!
Some of the more high profile events are covered below. This is but a sample of my work! Topics covered include keynotes on the future of self driving cars & trucks, agriculture & farming, banking and financial servics, food & retail, architecture and construction, and smart homes and the Internet of Things.
First off, can you tell you that I love my job? Here's a picture from when when I was on stage for an event in London, England, for Godiva Chocolates worldwide leadership team.  Never mind that with jet lag, it was the equivalent of 3:30AM in the morning!
I'm on, I'm wired, I'm inspired – that's what I do!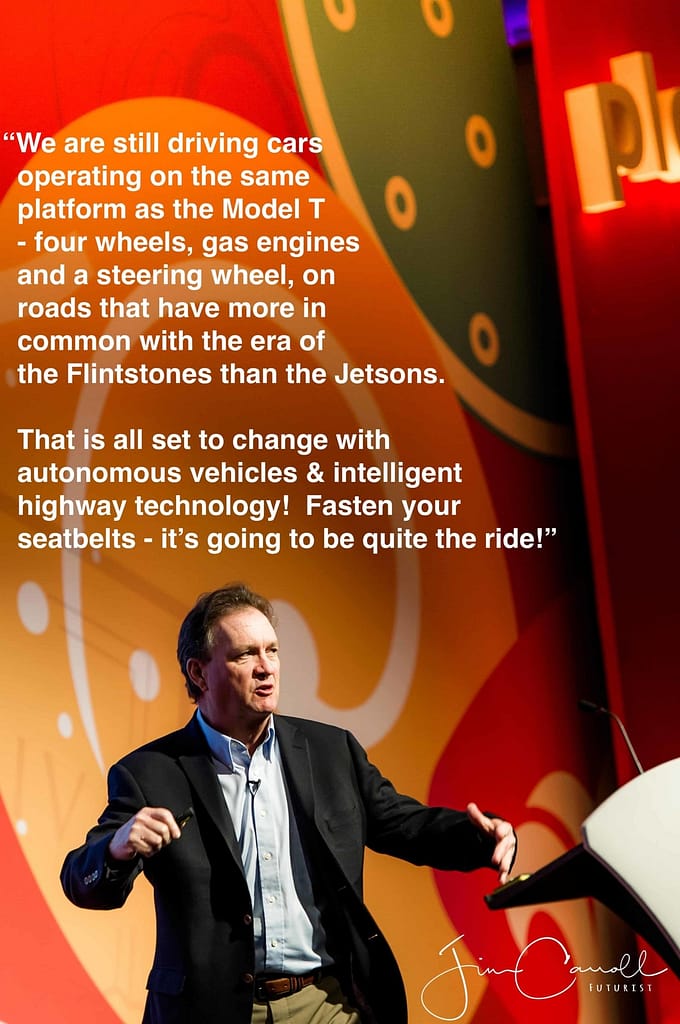 World Government Summit, Dubai, UAE
Jim was invited to speak at this massive global conference, with 3,400 attendees from 60+ countries worldwide. It's sponsored and opened by the Prime Minster of Dubai, His Highness Sheikh Mohammad Bin Rashid Al Maktoum, and is tasked with the issue of examining the future role of government in solving some of the challenges of our time.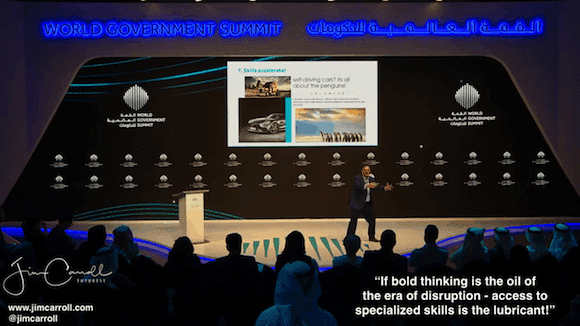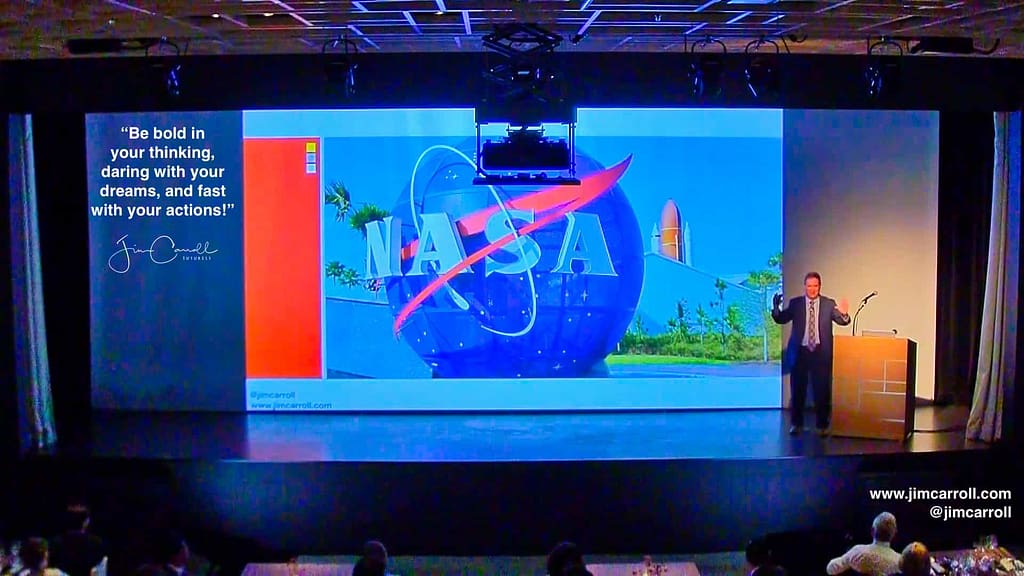 Nikon 100th Anniversary Celebration, Tokyo, Japan
This global organization invited Jim in to headline a dinner for his observations on the future! I opened with a story on when NASA invited me in (twice!) for a talk on the disruption of the space industry, transformative leadership and fast paced trends. My audience consisted of people from 37 countries, with simultaneous translation into Japanese and Chinese. You don't get to be a company with a 100 year history without constant, relentless innovation and reinvention, and so it was an honour to be invited in to headline this prestigious event.
Mercedes Benz – Disruption: Self-Driving Cars and the Sharing Economy
Obviously, this is a HOT topic, and being invited in by one of the pre-eminent automative companies in the world to share my thoughts on these trends is certainly a career highlight! 2017 was characterized by an increased number of organizations looking for in depth insight to the massive disruption occurring in the industry – I spoke at automotive, trucking, hi-tech, finance and insurance conferences about the impact of self-driving, autonomous vehicles. Simply check out some of the posts in the automotive trends section of my blog – it's over there on the right — for some insight into why companies like this are choosing to bring me in.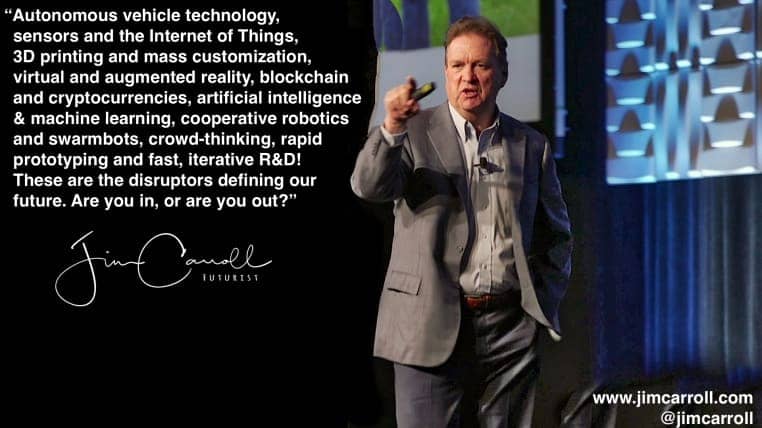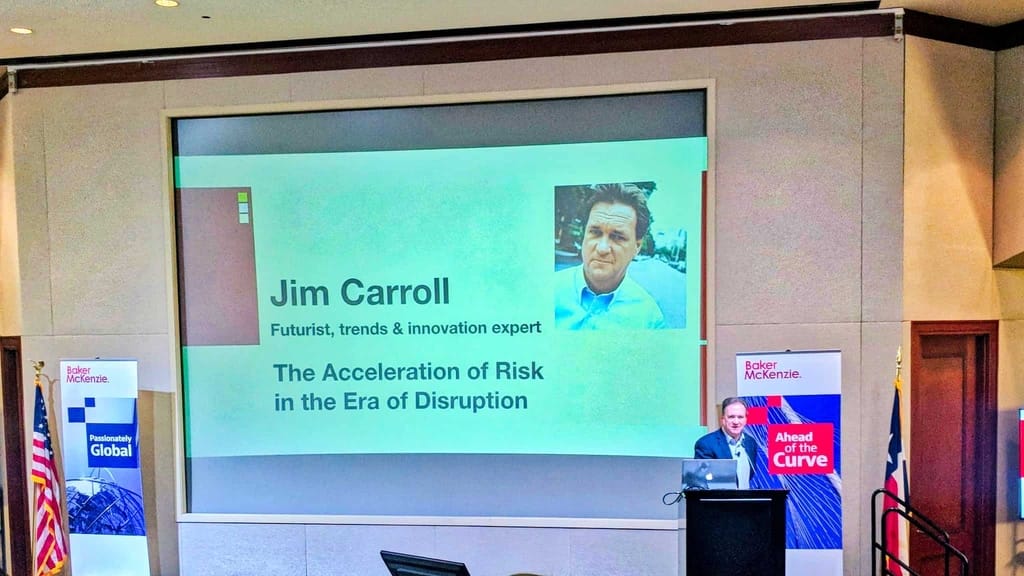 Baker McKenzie client conferences, Dallas and Chicago – The Acceleration of Legatos Risk in the Era of Disruption
It's pretty cool when the top-ranked global legal firm — operating in 38 countries with 13,000+ legal staff — picks you to come in and speak to their most important clients about the future — and the unique legal issues that the future brings. That's what Baker McKenzie did! The audience was pretty spectacular – key corporate legal counsel for a vast number of global Fortune 500 companies, individuals responsible for managing the accelerating complex legal issues of our time. My keynote took a look at fast new risks involving intellectual property, the Internet of Things, new careers, accelerated product innovation and so much more. I'm busy working on a blog post on my thoughts – stay tuned!
PGA – Professional Golf Association of America: They invited Jim to open the 94th Annual General Meeting of the PGA — the first time they have ever brought in an external speaker. Recognizing that we live in a period of significant economic transformation, the PGA felt that Jim's message on future trends and the need for innovation  would help to set the theme for the event, "Your Future, Your PGA."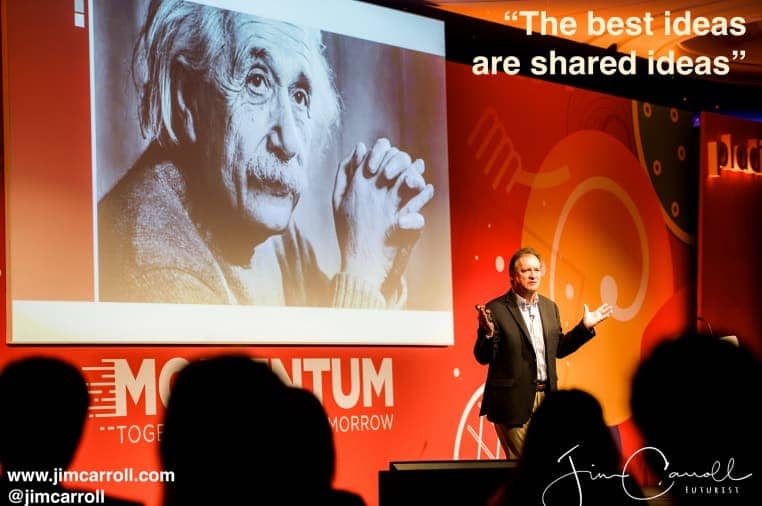 Godiva Chocolates, Ghent, Belgium
This was a repeat engagement — the company, along with its parent Ulker from Turkey, had me headline a global leadership meeting in London, UK in January. The Godiva team found the message to be powerful, and so they invited me back for a deeper dive into global retail trends. My keynote took a look at consumer behaviour, fast new retail store technology, the impact of Amazon, the role of the mobile device in collapsing attention spans, the new product influencers and so much more….
In this case, the small meeting room (with 50 executives from 18 countries, including China, Hong Kong, Singapore, London, Germany and more…) didn't offer a great photo, but the view outside of my hotel room sure did! I love doing events in Europe! Invite me in!
The world of retail is changing at a furious pace – witness the recent purchase of Whole Foods by Amazon — and I'm doing quite a few talks on trends in this area, including for a major retail conference in Las Vegas this fall.
Consumer Electronics Association CEO Summit: Brand Innovation At the Speed of Twitter. Jim put into perspective the impact of social networks upon branding, consumer relationships and marketing for this group of senior executives from some of the world's largest technology companies.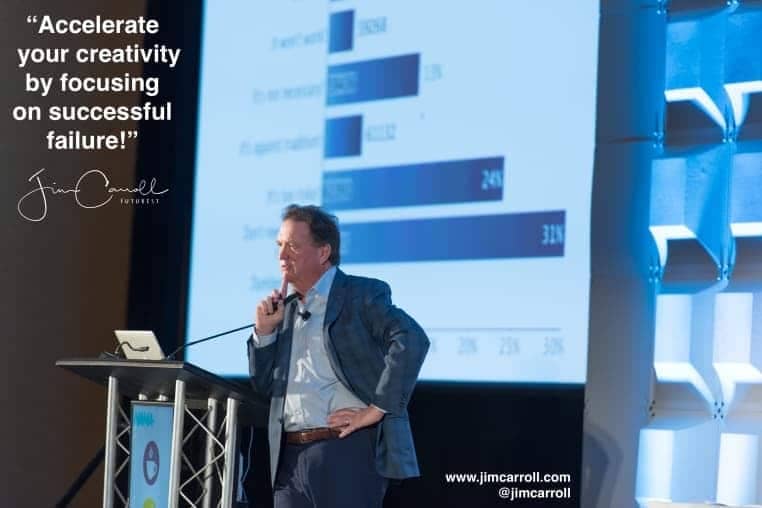 Walt Disney Corporation: Innovation in the World of Upside Down Retail. Considered as one of the most innovative organizations in the world, Disney invited Jim to address a senior leadership meeting, specifically for his insight on consumer trends, and the new innovation methodologies underway in the world of entertainment, retail and consumer goods. Management of this master storyteller made this comment after Jim's talk: " Jim's storytelling approach really helps to get his points across!" 
World Pharma Innovation Congress: The future of pharma. Jim was invited to be the opening keynote speaker for this prestigious international event held in London, England. Jim challenged the audience to think about the dramatic opportunities unfolding in a world of accelerating scientific and demographic driven change.
Burger King: Fast Paced Market Change. Jim was the opening speaker for the global franchise meeting of Burger King, speaking before an audience of 4,000 at PlanetHollywood in Las Vegas. Previous opening keynotes at this event have included George Bush, Marcus Buckingham, Bob Dole and Don Shula.
National Recreation and Parks Association: The Future of Recreation. Jim was the opening keynote speaker for their annual conference in Salt Lake City, with an audience of over 4,000 sports, recreation and municipal professionals.
Fidelity Bank (Cayman): Competing in the Global Economy. Jim opened a conference of leading financial, banking and investment professionals, at an event attended by the Governor, Mr. Stuart Jack, CVO, as well as the majority of Cabinet members of the British Territory. Jim's talk focused on the rapid pace of change with the provision of professional and financial services, and the innovation challenges that the small island-nation should pursue in the era of rapid consolidation of global wealth into the Far East and Asia.