"Don't let anyone tell you it can't be done, that it won't work, that it is doomed to fail or that it is a dumb idea. Because they aren't the ones in control of the design of your future – you are!" – #Futurist Jim Carroll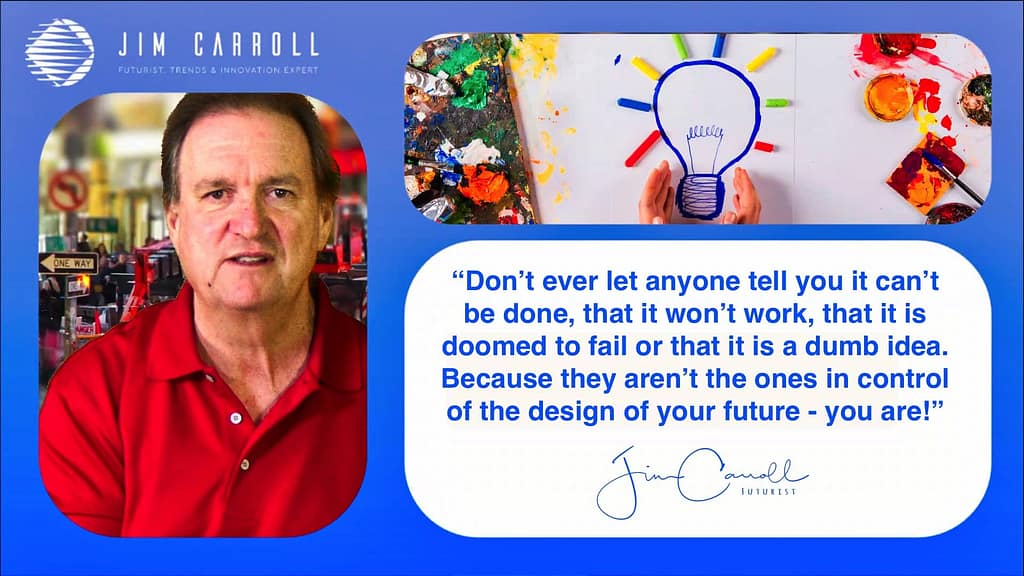 People who don't create things tear down things instead. People without ideas criticize those who have them. People without inspiration work to demoralize those around them.
During these difficult and perilous times, you need to surround yourself with the optimists, take comfort with your fellow visionaries, and seek inspiration from those who dare to break the mold.
I am sensing that there is now a new demand for creative thinking in methods to solve some of the greatest challenges of our time. An era of big problems provides for the perfect timing for a new time of big thinking. Be a part of it – don't avoid it. Don't try to figure out your role within it – make up a new one. Don't wait for someone else to show you how to take a step forward – start walking. Don't postpone your action while you wait for a starting gun – it's already gone off. And don't let the 90% of people who will fail to take advantage of this time to spin your wheels – join us in moving forward because our wheels have been turning for months.
It's your future. Design it now!