"If you are really good at what you are good at, shout it out loud!" – Futurist  Jim Carroll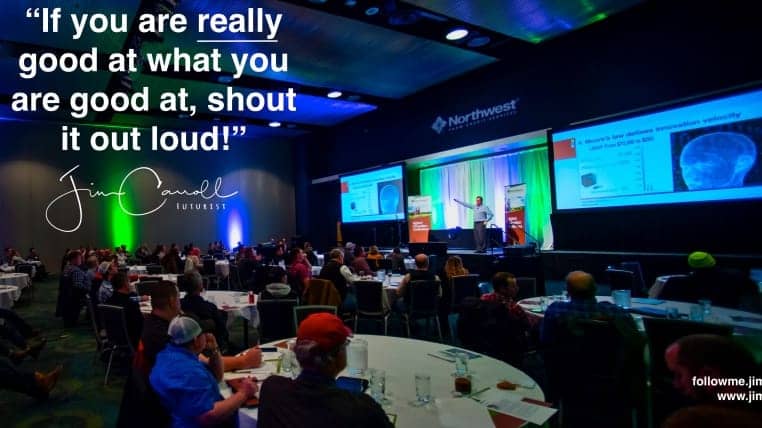 "DID ANYONE LOSE A CELL PHONE? DID YOU LEAVE IT ON THE PLANE? WE HAVE A CELL PHONE BACK HERE!!!" So I was shouting this out, in a very loud voice, in the back of the Immigration arrivals area of St. Lucia's airport on our arrival on Sunday. From the very back of the line. The very back. Like, an hour worth of waiting in the back!
Someone had lost their phone on an arriving flight, leaving it on a seat. An airline worker was trying to find the owner; there must have been 500+ people in this small, cramped area. It was going to take us well over an hour to get through! I had decided I would be chill. No stress, mon!
And when the airline guys' tiny voice couldn't get any attention, I decided to help!
I'm a public speaker after all — one of my key assets is my LOUD voice!
So we found the owner of the phone seconds later.
And guess what – the airline guy said to my family and I – 6 of us – "Follow me!" And he moved us over to a separate line for little kids, with no one in front of us, and we were through in moments later.
If you have a skill, always be prepared to use it. I was in this moment, a new hero to the young men who are my sons.
Take a look at this photo – it's from my keynote last week for the Northwest Farm Credit Coop. I had 500+ farmers in the room, and was speaking to various agricultural trends. In one section, I spoke of the fact that farmers need to do a better job to tell their story to the world. In this era in which people are suspicious of the world of reality around them, farmers need to advocate for what they do, whether it is the ethical treatment of animals or the careful use of crop fertilizers. "If you don't tell your story, 'they' will" went my advice.
If you have a skill, use it. If you work hard, don't be shy to boast of it. If you do good work, be prepared to share it. Many of us have been taught to be naturally shy, quiet, reserved, cautious.
But sometimes, you need to shout it out loud.
And if you do, you just might find that it will move you to the front of the line!