"The seed of industry ideas has been replanted; a part of your future is now reinvented elsewhere!" – Futurist Jim Carroll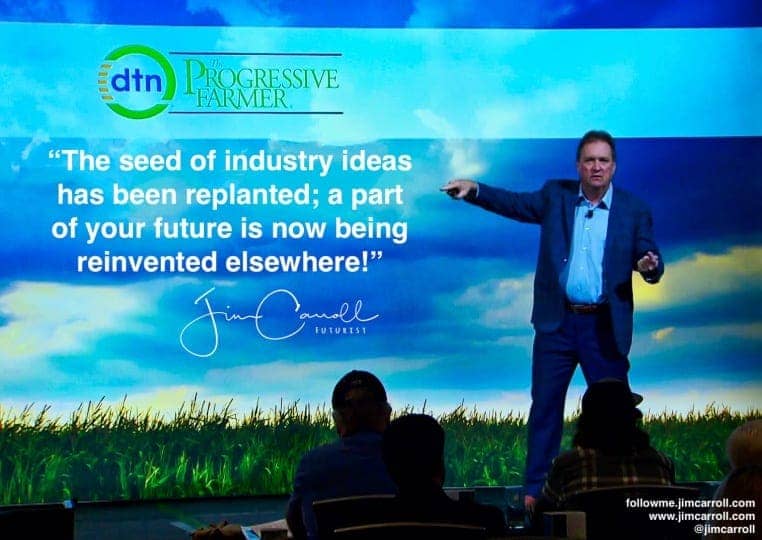 19 Trends for 2019: #5 The Impact of Massive Urbanization
Megatrends drive mega change, and no where is this seen than with the growth of urban cities. That's trend #5 for today.
Simply put, megacities are the future. This results in new careers, new infrastructure, new innovation, new trends! Cities own the future, and the impact will be everywhere. One example? The acceleration of vertical farming concepts!
Much of the vertical farming innovation is occurring in megacities, in Africa and elsewhere. Here's a clip from December 2018, where I'm on stage at an agricultural conference, talking about vertical framing, desert farming, and floating cow farms!
Worldwide, there is a massive migration of urban populations to cities; the majority of the world's population will live in less than 30 mega-cities by 2025. With that trend comes fascinating challenges with water, waste treatment, energy and other infrastructure. We can expect accelerating R&D in each of these fields as global society steps up to the challenge presented by 'hyper-urbanization,' and the birth of entire new lines of business involving "mega-city' infrastructure support services." Why is this trend important? Because a lot of money will go into redefining these megacities for the future. Those trends will leak everywhere else… and so a farmer in Iowa will find that his or her future is, to a degree, being determined by the fact that a farmer in Ghana, Africa, will increasing be in a city, and will define one of the biggest trends in the world of farming.
There's an important lesson in innovation from all of this – specifically, 'your future might no longer be invented here!" It's by watching the big trends, learning what they mean, and how they are accelerating change, that you can discover new pathways to the future!
#motivationalquotes