I'm represented by many of the most prestigious and hard-working speakers bureaus in the world – the same folks who represent Barack and Michelle Obama, George W. Bush and Colin Powell, Richard Branson, and others. I regularly work to keep them up to date on things that are impacting our world.
With that in mind, I just rolled out an email update to them. It summarizes many of the things I am doing and sharing and so it is worthwhile to share here!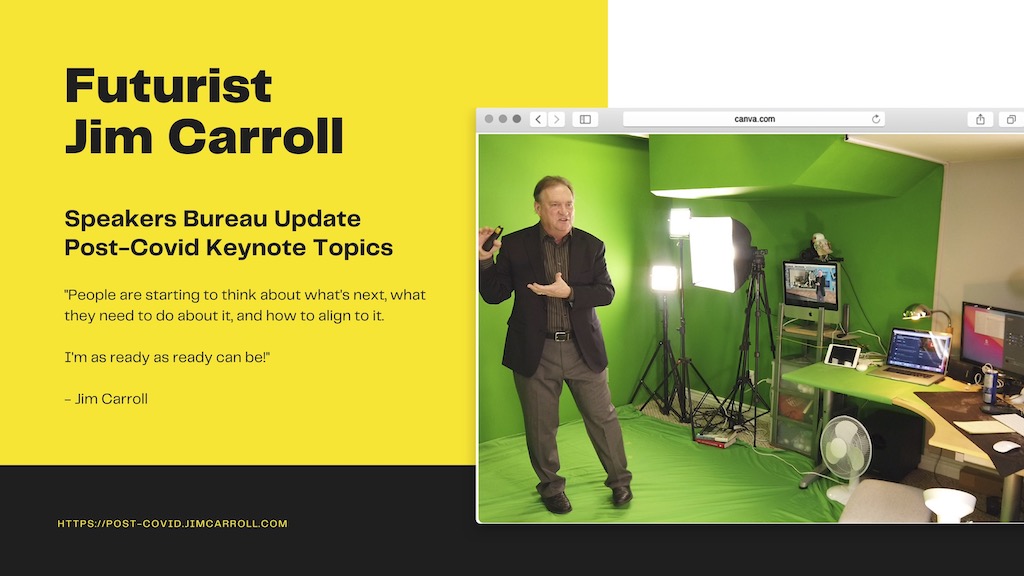 Good day!
Here's another one in a series of infrequent updates I put together to keep you informed of our mutual opportunities as we go forward in this crazy new world.
I'm pretty certain that you are seeing new signs of optimism in the economy, with the people around you, and in the industry, we work. It's kind of nice! Here's hoping!
I'm seeing it too – particularly in the number of leadership queries around post-Covid trends, and our eventual post-pandemic future. With that in mind, here's an update on 5 key areas of mutual interest:
post-pandemic keynote topics
a new post-pandemic trends video
short, sharp shocks of video insight
virtual studio – behind the scenes
my powerful new video series, Ask a Futurist!
1. Post-Covid, Post-Pandemic Keynote Topics
It's pretty clear that most organizations have spent the last year in a brutal form of strategic triage – but I'm getting a sense that they are now starting to think about what's next.'
I can tell by the speaking queries.
*Most* of my business over the last decade was skewing heavily to the global corporate leadership event market – clients like Disney, Johnson and Johnson, Mercedes Benz. It's interesting to note that Pfizer had me in Paris for a global leadership meeting just a few months before Covid – and my key message was the ability of organizations to respond at speed in the face of relenting change. I sort of nailed it, I suppose.;
And so I've got a number of keynote topics that reflect the thinking behind the queries. There is a full-page and topic description that goes with each one; you might consider them for my page on your site since it will align with what your clients are looking for.
The Next 5 Years: Understanding the Trends In our Post-Covid World
"We know the axis of our universe has shifted. But what has it shifted to? Futurist Jim Carroll shares his insight on the path forward."
https://jimcarroll.com/keynote_topics/the-next-5-yearsunderstanding-the-trends-of-our-post-covid-world/
Now What? Reinvention and the Role of Optimism in Our Post-Covid World
Reinvention surrounds us. It is inherent to our future, fundamental to our success, and a pathway to our actions. Futurist Jim Carroll shows the path forward.
https://jimcarroll.com/keynote_topics/now-what-reinvention-and-the-role-of-optimism-in-our-post-covid-world/
2021: What To Expect When Your Future is Unexpected: Understanding The Trends that Define Your New Future!
2020 was the most tumultuous year in decades and shifted the universe for the global economy, industries, companies, people, careers and nations! What's your plan for moving forward?
https://jimcarroll.com/keynote_topics/understanding-2021-how-to-maximize-your-opportunities-in-this-new-and-different-decade/
Our World in 2030: The Post-Pandemic Trends That Will Redefine Your Future
The future hasn't disappeared – it's just dramatically different! These are the trends that will shape your future world.
https://jimcarroll.com/keynote_topics/our-world-in-2030-the-post-pandemic-trends-that-will-redefine-your-future/
9 Things You Need to Do Right Now: Rediscovering Growth, Opportunity, and the Future When Volatility is the New Normal!
Innovative organizations succeed by mastering the pace of the new high-velocity economy. And in an era of economic challenge, they focus on discovering opportunity!
https://jimcarroll.com/keynote_topics/9-things-you-need-to-do-right-now-rediscovering-growth-opportunity-and-the-future-when-volatility-is-the-new-normal/
Volatility, Uncertainty, Complexity, and Ambiguity: Leadership Strategies and Insight for the Post Pandemic World
History has taught us that only 10% of organizations become breakthrough performers during a period of economic challenge. What will you do to be part of this elite group of aggressive survivors?
https://jimcarroll.com/keynote_topics/volatility-uncertainty-complexity-and-ambiguity-leadership-strategies-and-insight-for-the-post-pandemic-world/
2. A 5 Minute Video on Our Future
I recently hit the green screen studio and filmed a summary of what's next.
It will take a short moment of your time – I'm certain you will find it compelling. There's a download link on the video if you'd like to use it and share it.
And this is virtual, of course!
Your Post Covid Reality – The Trends that Define Your Future!
3. Short Sharp Shocks of Insight
I've been using the pandemic to accelerate not only my virtual studio skills but my virtual video editing skills.
Here are a number of REALLY SHORT promo clips designed to inspire people and get them thinking. These are extremely powerful for fast marketing.
The Future, Post-Covid: What's Your Plan?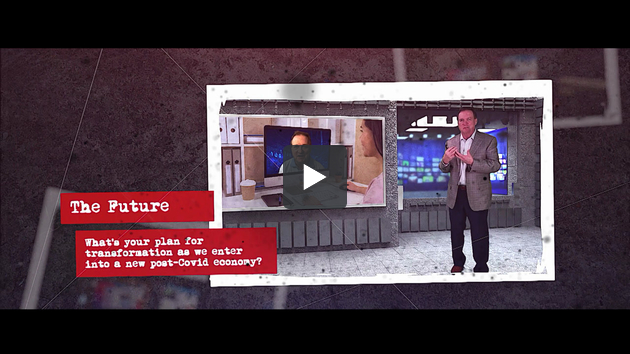 Leadership and Your Post-Covid Future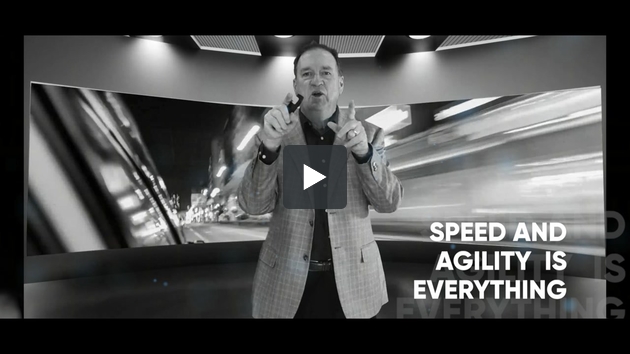 Covid Has Shifted Your Universe: What's Your Plan?
Your Future Post Covid?
4.  Virtual Studio Updates
With that same thinking in mind, here are two short sharp shocks about my studio setup.
Virtual Done Right – Jim Carroll's World Class Broadcast Studio
A Sneak Peek Behind the Scenes!
5. Ask a Futurist!
Last but not least, I've launched a new video series – Ask a Futurist! Details are at:
I've been soliciting ideas with social media posts and more – on topics that people are thinking about. It's proving to be a huge hit in but two weeks – I've taken on this fun topic below, as well as "What's the Future of Pharmacies" and "What's the future for globalization?"
I've got a number of new potential topics this week and will finalize one on Wednesday, and will hit my virtual steudi9o to film a short clip
Ask a Futurist – Intro Clip
t
Ask a Futurist – What's Up With All This Game Stop Stuff?
As you can see, there is a lot going on! Please reach out with questions, comments, feedback.
Come and visit!
Futurist Jim Carroll