It seems there are a lot of people reading my new book, "Think Small, Delay Now, Scale Slow!" They so busy thinking that Covid-19 will 'soon be over' that they aren't reinventing themselves for our new future. The result? They're going to be left far, far behind.
I'm watching people, organizations, associations and how they are reacting to the most seismic global change of the last 70 years. And it seems that many are doing everything they can to avoid doing what they need to do to align to our new and different future. They are letting their delusions drive up the level of cultural plaque that is accelerating their organizational sclerosis. They're clogged up with indecision, and many will soon succumb to the deadly disease cause by this inaction.
Huh? Simply put, too many people think the Covid-19 crisis will soon disappear, to be cured by a global vaccine, or pummelled into obscurity through careful quarantining. IMHO, it won't be, and we will be living in a complex new, virtualized world for quite some time. If you don't align your business model and your reality to this simple fact – well, good luck to you!
So try this on for size – read my list of innovation killers from times past – and ask yourself, what you are guilty of!
For 2020, we need a new list, because the new "innovation killers' are much, much worse.
Ask yourself which of these attitudes you have succumbed to – and challenge yourself, "what happens if I am deadly wrong in my assumptions?"
Because you probably are:
a belief that we will soon get 'back to normal'. We won't.
letting your 'desire' get in front of your 'reality' : you think the virus will soon be quashed or that a vaccine is imminent. It won't be, and there won't be.
accepting our new reality seems like an admission of defeat. It's not. It's a foundation for action.
a feeling of invincibility that drives inaction – that your business model, structure of other attributes will survive. Without drastic action, it probably won't.
not understanding that everything has changed. It has. In massive ways.
not *accepting* that everything has changed. It has, forever.
an inability to comprehend what has actually changed. You need better insight – the changes occurring are profound
too much optimism for the speed of return to 'normal.' It's going to be a long, tortuous path out of this 'thing'
a fear of confronting the truth. Your future will be pretty ugly, unless you start working at a furious pace RIGHT now to reinvent it
feeling helpless in face the of overwhelming change. Move faster along the 7 stages of economic grief!
'confirmation bias' clouds your judgement. You prefer to believe those who tell you this will soon be over, and not to those who will tell you the truth
you've fallen prey to the cult of delusion, the conspiracy of idiocy. Enough said. This might even make your future a lost cause.
There is nothing normal about these times.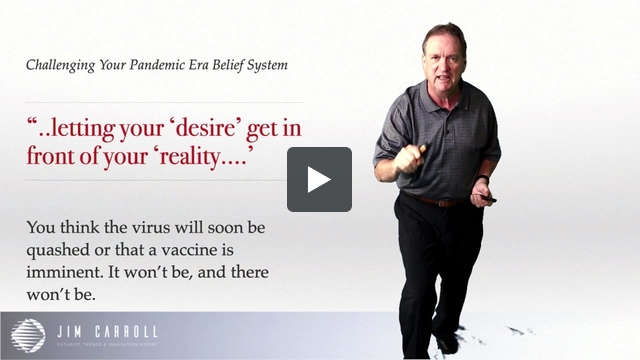 What you know is gone.
If you don't accept that reality, well, you'll be gone too! That's the brutal truth.
Is there anything new with this new future reality? Everything and everything! The problem of 'aggressive indecision' was an issue in previous periods of economic uncertainty. Back in 2002, I found myself on stage speaking about the ill-fated disease of 'aggressive indecision'. I ended up writing a newspaper column about it; the reaction to the column forged my thinking; the story eventually became the basis of my book, "What I Learned from Frogs in Texas." And again, post-2008, I found myself all over the world, speaking to senior leadership teams at companies like Northrop Grumman, Disney, Yum! Brands, Johnson & Johnson and hundreds more about how to move forward in an era of economic uncertainty.
And yet in 2020, we find ourselves in new and uncertain circumstances. Somehow, the leadership attitude within many organizations just seems to be — different. People are frozen into failure-oriented actions through a lack of understanding their real reality. I'm seeing it within my own industry, that of global events and meetings. Associations, meeting planners, convention centres – at first, many were actively planning for a 'return to normal' in the fall of 2020. That is disappearing, particularly in the US, as deaths accelerate. Now they're talking the spring of 2021. Highly doubtful. Summer of 2021? A stretch! The impact? Few are planning for a future which is massively virtualized – they're only dabbling at the edges.
Not in my case. I'm virtual for a long, long time to come, and I've made the investments to be a winner, one of the few who will survive.
Your new reality is not your old reality deferred. It's new – do you not understand that?