"Consensus? It's a silent killer, the secret destroyer of initiative!" – Futurist Jim Carroll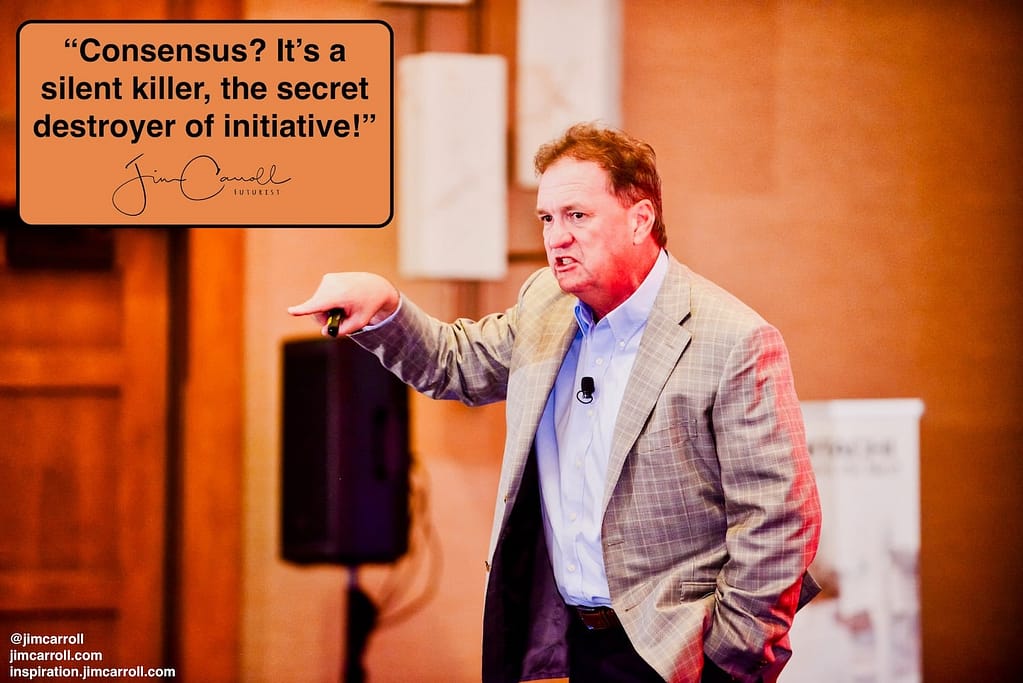 Sometimes, ya' gotta do what ya' gotta do!
The need to find agreement, to get everyone on the same page, to forge a common path, to find a mutual way forward – gosh, what a tremendous amount of time and energy organizations can spend trying to get everyone to agree to do something!
The result is that a simple project becomes a massive complexity; a small step becomes a giant march; a tiny initiative becomes a huge leap.
And all of a sudden, what seemed doable and within reach becomes unattainable.
Sure, consensus is important, but how much opportunity is lost while we try to forge a common viewpoint?
The challenge is much greater in today's complex, polarized world. It has become more difficult than ever before to get people to agree on anything!
Here's the thing: the engine for the process of consensus building is often within a committee, and as I wrote in a previous post: "Committees are the black holes of the corporate universe – it's where innovation goes to die, creativity is destroyed, bright sparks of imaginative thinking are snuffed out – and a place from which no great idea or bold initiative can ever escape!"
What should you do? If you really need to move forward:
– Stop searching for common ground. Too many people try to accommodate every viewpoint. It's often a waste of time, since your efforts will lead to a mishmash of a complicated, ugly, unconnected idea. That will fail, in spectacular fashion.
– Banish groupthink! Identify the consensus – do the opposite. In fact, to avoid groupthink, see what the group is thinking, and do the opposite thing!
– Kill the committee. They kill ideas. They stifle creativity. They smother opportunity. They are a blight on the concept of creativity. Committee's are a tumour on the soul of initiative!
Consensus can be an important leadership goal, and with the right team, timing, objective and strategy, it can be a critical component for success.
But if you don't have those in perfect alignment, it will be be the fuel for your failure!