"Doing the right thing when it's easy is easy – it's doing the right thing when it's tough that is tough!" – Futurist Jim Carroll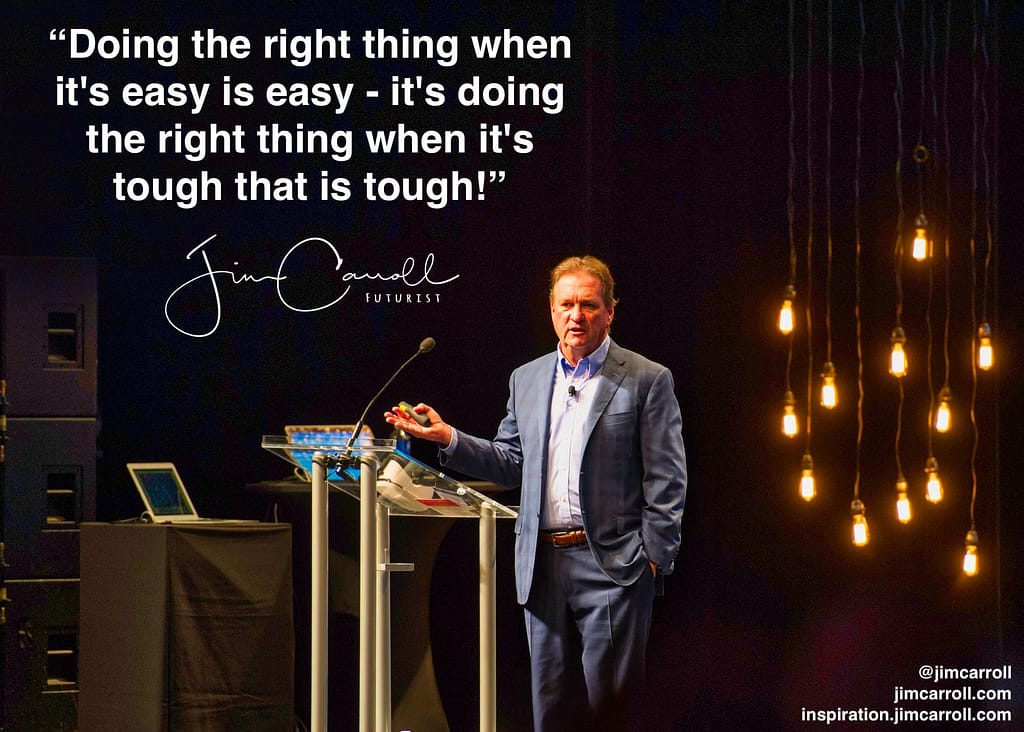 People seek the easy way out. It might work for a short time, but it will usually end in a spectacular failure. Some folks will have multiple attempts at seeking an easy path – and will find themselves on that particular road for a long time, with the same pattern repeating itself. They live in the unique and particular unsuccessful hell of a Groundhog Day as a result.
Success comes from the hard choices and the hard work that goes along with it. There is no easy way out – there is only sustained effort because that is the true partner to achievement!
This thought came to mind in a recent keynote Q&A when someone asked me for a few 'secrets' for innovation success. I get this question a lot. 
I always push back on the idea of 'secrets', because it implies there is some sort of 'secret sauce,' a 'magic formula', a simple methodology that one needs to adopt. There is no such thing: there is only effort.
Then there are the folks who want a list of 'what they should do Monday morning.' They want their audience to receive a concise list of everything they need to do to achieve fast results. That too implies a culture of seeking a simple solution to a complex problem.
The second aspect of this quote, which I'll go to on stage, has to do with doing the 'right thing.' What is that? You know what it is: it's the thing that gives the ethical part of your soul the warm feeling that the choices you are making are the smart ones – that you've chosen the proper path. It's the belief that you get at the end of the day that the things that you have done have remained true to your noble purpose. 
You'll know you've done the right thing – because it was the right thing to do.
And so, if you do the hard work to get to the right thing, you've done the right thing.