"Your fear of the future might be fateful. For your future!" – Futurist  Jim Carroll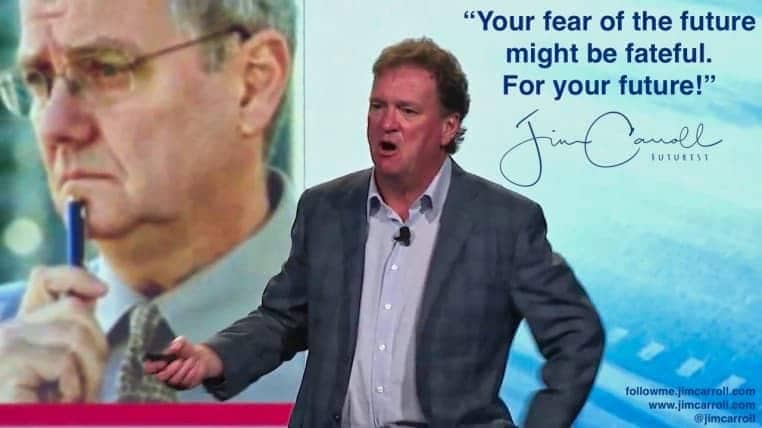 I've been using this picture in my slide deck since 2001. And its' part of a standard section I use in each and every keynote – how there are people in every organization, and all around us, who simply don't like the future because they fear what it represents.
They are the people who will give me a negative review regardless of how good I am on stage – because my message about the future is a threat. The future involves change, and change involves discomfort, and change creates fear. They simply do not like the future!
The challenge is particularly acute for those who suffer from logizomechanophbia – yes, it's a word, and it defines those who suffer from a fear of technology.
I wrote an entire book around that particular theme in 1997 – "Surviving the Information Age."
Originally published in 1997, the book took a unique look into the experiences that Baby Boomers had when confronted by massive doses of technology throughout their lives. We were the generation that grew up with punch cards, COBOL, and big, bulky, freaky mainframe computers!
The result, as described throughout the book, was a generation that, for some, felt terrorized by the arrival of technology into various aspects of their everyday life. (Not me – I was a geek, and embraced it!) I'm pretty proud of this book – it's one of my best. Surviving the Information Age is a historical artifact — it describes, in unique detail, the experience of a generation with technology, long before that technology had a chance to mature and cause massive global change.
Sadly, the challenges still exist to this day with those who fear the future!