"In the long run, science wins!" – Futurist  Jim Carroll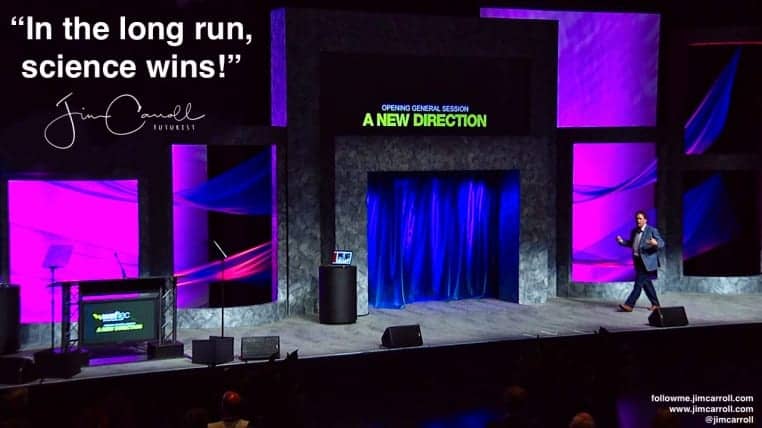 In this photo, I'm on stage in New Orleans, speaking at the largest conference on the largest water conference in the world. I'm speaking about scientific trends that will help us to better manage, use, recycle and conserve this most precious resource. Many of my keynotes are based on deep science. Then, some get weird. I was invited in by the National Mining Association earlier this year to speak about future trends. It was politely suggested I not talk about renewables, since it might upset the 'coal people.' Seriously! We live in strange times. You might be part of it. You might choose not to believe in science, but remember this: in the long run, science will determine whether you win or lose!
I happen to like science. It's the foundation of almost every single trend, every single reality, every single future. There are lots of folks out there who don't believe the science of medicine – they'll probably die with their disbelief, likely due to some avoidable health issue. There are people out there who don't believe in global warming – and will then complain about the stench of smoke in their neighbourhood as forest fires rage out of control. There are people who will bitch about how fake global warming is – and then plead for government support when their coastal home is destroyed in a storm due to heightened hurricane activity.
Its hard to have much sympathy for these people but the scary thing is, their numbers are increasing. I take solace in the fact that in the battle between a false reality and science, science always wins. Here's the thing – science might take us in a direction that we don't like, and so we who believe in it better redouble our efforts to let other people not forget that fact.
These times too shall pass.