"As attention spans collapse, the clarity of your message is absolutely critical!" – Futurist  Jim Carroll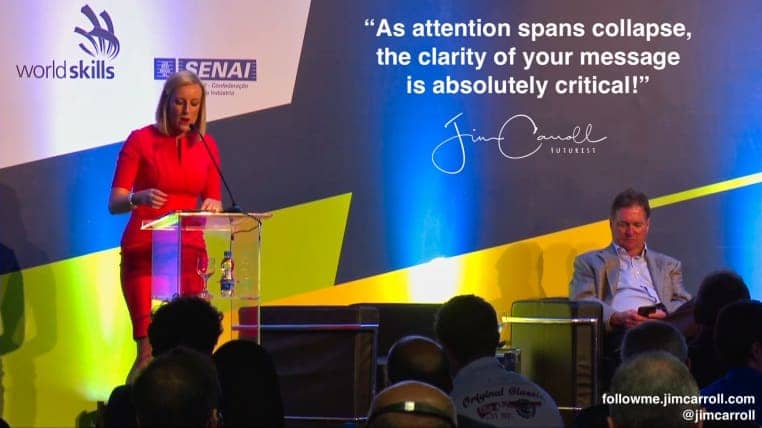 '' The average consumer scans some 12 feet of shelf space per second. A goldfish has a longer attention span than a human. We spend more time staring at our mobile devices than we do looking at television. Such are the statistics I share with my audience when I'm speaking to a global trend on the future of retail and consumer behaviour.
We're in the attention-deficit economy, and it's a profound shift in human behaviour that is changing everything.
And absolutely everyone is guilty of bad behaviour! I've just finished my keynote at the globe WorldSkills competition event in Sao Paolo, Brazil, and I'm set to participate in a panel discussion — and I am displaying the height of rudeness to my audience! As a speaker on stage, I should have more respect – as should those of you in my audience who spend too much time on your mobile!
The photo? In my defence, I took a brief glance to see if my hair guy, Fehmi had managed to watch me online – my keynote was being broadcast live online.
And at that very moment, while I was looking at the phone, my son was having his hair cut with Fehmi — and in instant, sent me a text telling me not to look at my phone while on stage!
The short-attention-span-economy is real, a big challenge, and is yet another trend that organizations and people need to learn how to better manage!''