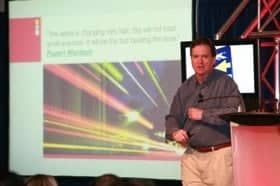 If you want to understand what you should be doing right now, you keep your ears close to the ground, and listen to what others are talking about.
I've had a huge number of events in the last two months, since the economic contraction began. All of my keynotes and leadership sessions have focused on strategies to "stay out in front of this thing."
I'm also quite often working with senior management, and get direct insight into what the CEO's are thinking. Here's what one CEO stated as the most important priorities through the next year, given the economic challenges:
staff development and retention: keep the key staff engaged, innovative, and focused on the business.
change leadership: many of my keynotes use a phrase from Rupert Murdoch: "The world is changing very fast. Big will not beat small anymore. It will be the fast beating the slow." That's particularly true now: organizations must "check their speed" and be able to evolve strategy, ideas, product and service very fast to keep up.
back of the house is critical. In other words, IT is going to help to see us through. We need deep insight into the business; we need to focus on the cost efficiencies it can bring. We have a plan of investment, and we're not backing off now — it's critical
client retention: absolutely critical. Obsess over the quality of client relationships. This is so important, I've got a separate blog entry on it.
"make plan" — we have a budget — we need to meet it. We need to relentlessly focus on closing deals. We've got to be a partner to our customers; they are looking for comfort, and we can provide that to them. If it means we share the risk with them, we do that too.
have fun: wellness, mental and otherwise, is going to be critical to everyone in the organization in getting through these times. Let's focus as a team, have fun, and move forward!
That is a good concise overview of what one CEO is telling his leadership team to concentrate on. There are some powerful lessons here. And it's insight like this that I'm sharing to inspire and encourage others to innovate at the pace required to stay ahead of fast paced economic change.