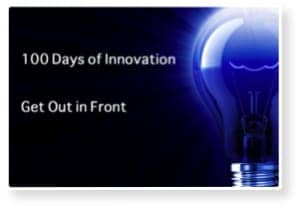 The last few weeks have seen a variety of keynotes for leadership meetings — for a telecom company, food services organization, commercial real estate & property management firm, among others. These have involved audiences from 250+ to 800+ executives.
Obviously, the economy weighs heavily into my observations on stage, and in the questions in the Q&A.
The keynotes have been built around my theme of 7 Things You Need to Do Right Now: Aligning The Fast Future to Your Current Strategy.
One of the 7 Things that has stood out – in common with all these organizations — focuses on the reality that with an economic correction underway, it is critical to keep existing customer/client relationships intact. Indeed, the CEO at the event yesterday noted that "customer retention" was one of the top 6 priorities for 2009.
What's the innovation issue here? There is a big opportunity in solidifying existing relationships by solving customer/client problems before they know they have them. This is BIG.
Think about these issues, and innovate from them in terms of what you do with your customers / clients:
when times get tough, quality, service and relationships rule: operational excellence is more important than ever.
focus on a new partnership with the customer, for example: "we've got the latest strategies to help achieve cost savings"
stay ahead of fast paced change that you can utilize for the customer — with the attitude being, "we're on top of fast paced developments that impact you, so you don't need to be!"
make sure your customer understands that you are ahead of the pack in solving their problems.
Staying in front of the trends, and solving your customers problems faster, will be a key method of providing for retention, which is going to prove to be critical during the correction. It's a critical innovation strategy right now!