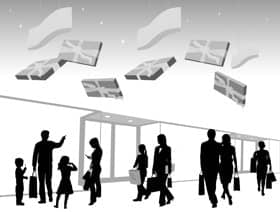 I'm about off to keynote a conference for Visa. With executives in the room from Apple, Sony, Ticketmaster, HomeDepot and other organizations that are e-commerce heavy hitters, I'll be focusing on the message, "what do high velocity companies do to stay innovative?"
Much of the conference so far will have focused on the high velocity change that swirls around the issue of e-commerce: the rapid emergence of new payment technology (i.e. cell phone payment infrastructure), continued market growth as e-commerce becomes a routine part of daily life, and internationalization of market and opportunity (China now has the largest Internet population, with 250 million users.) There's also a significant platform shift as mobility takes on an increasing role: Investors Business Daily just reported that already, 16% of US cell phone users do online banking with their device, and 25% shop online. Such numbers pale in comparison to even more rapid change in Asia and Europe.
How do you stay innovative in a world of fast change?? I have several messages:
prepare for market / product / infrastructure rapidity: fast innovators make sure they have a collaborative team structure that can assemble into fast-teams, ready to tackle new projects, demands, market shifts and other changes. It's all about corporate agility.
structure for intensity: prepare for the rapid emergence of new technologies, and organize yourself with partners to help you nail implementation. Mobile payment technology is going to have a sweeping impact, and it's rollout will occur in but a few short months. That's the new intensity of business cycles.
empower for quality: if you shop online, you expect operational excellence, no questions asked. You can only do that by empowering staff to act on the ground, making quick decisions so that quality of experience is not compromised. Read my When FedEx Fails post of a few days for an important lesson on today's empowered consumer.
enhance capability from generational diversity: Older generations are still struggling with fast pace change: that's one of the key trends I identified in my most recent Future Trends report. Savvy organizations are learning to implement fast by combining the different talents of different generations; by providing for cross generational collaboration, they are drawing upon a set of unique skills to act even faster, thus managing to stay ahead of the pack.
10 years ago this market didn't exist. Today, it is valued in the hundreds of billions, and growth continues to compound. Anyone in this space is faced with a lot of real, significant change: with technology, customers, expectations, competitors, business models and just about everything.
You stay innovative by structuring yourself to stay just one step ahead of the future.